Go Freshmen!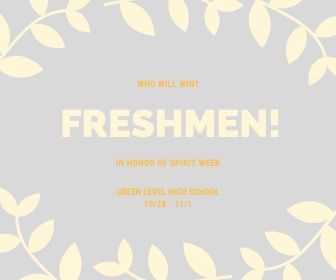 K. Zinger, Arts Section Editor, Staff Writer
October 18, 2019
Gator Fest Spirit Week is almost upon us, and the Leadership in Media team is preparing for an amazing week of competitions and happiness! Gator Fest Spirit Week will take place the week of Halloween–a week that will also include Volleybros, a pep rally, and a football game versus rival Panther Creek. 
The themes for Spirit Week will be:
Monday – PJ Day

Tuesday – Tacky Tourist Day

Wednesday – Jersey Day

Thursday – Gator Day

Friday – No school, but come out and support the Gators at the game against PC!
Big news for all Green Level students is the competition between Freshman and Sophomore classes to see who is the most spirited. Teachers will be counting up the Gators who are dressed up for each day, and the winning class will be announced at the pep rally on Thursday. The Gator's Eye will provide updates throughout the week on who is winning.
This Gator's Eye writer has full faith that her class–the Freshmen–will win the competition. I did some informal interviewing during lunch to ask who my classmates thought would win and most of the votes were for the freshman class! Fellow Freshman Gavin Campbell agrees wholeheartedly, saying "Yeah, I think for sure we will win." While this is still a friendly competition, I can't wait for the freshmen class to have bragging rights!
Gator Fest will also feature photo booth supplies and places to take pictures during each day of spirit week! We hope to see everyone showing their best school pride. Go Freshmen Class!