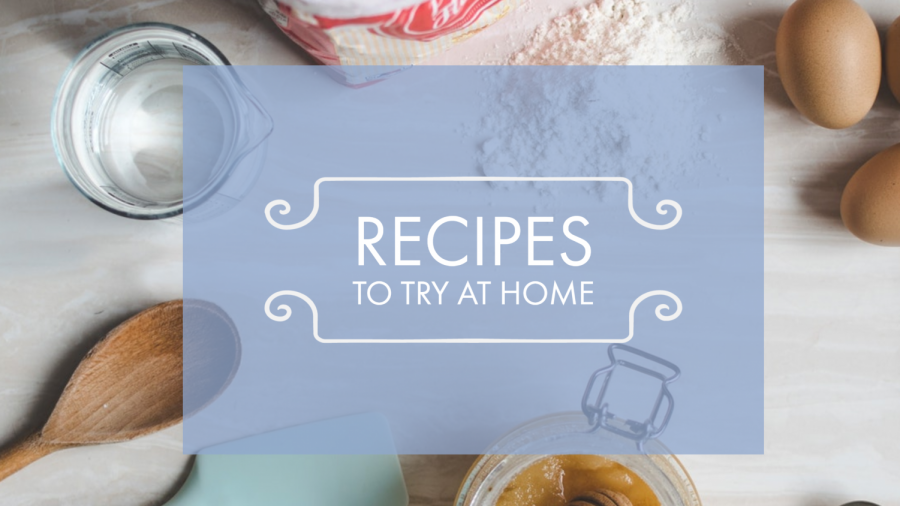 Image created by L. Toman
As we are starting our second month in quarantine, people are wondering what to do stuck in their homes all this time. Social distancing gives us a perfect excuse to try things you have never had the time to do before! Students are using this to catch up with old friends (virtually of course), revisit old hobbies, and improve on things you already know. One of the skills that a lot of students are trying to learn or improve on is cooking/ baking. Below are some easy recipes that were recommended by Green Level's foods teacher, Miss. Stanton.
Mini Blueberry Muffins
Ingredients:
1 cup flour (pre-measure day1) 1 egg
1 tsp. baking powder (pre-measure day 1) ⅓ cup milk
¼ tsp. salt (pre-measure day 1) ¼ cup butter (½ stick butter)
¼ cup brown sugar (pre-measure day 1) ½ tsp. vanilla
¼ cup granulated sugar (pre-measure day 1) ½ cup blueberries
Directions: READ CAREFULLY!
_____ 1. Pre-heat the oven to 350°. Lightly grease the muffin pan (or use paper liners)
and set aside.
_____ 2. In a large bowl, cream together sugars and butter. Add the egg, vanilla and
milk; mix.
_____ 3. Slowly add the dry ingredients to the wet ingredients and mix together. Gently
fold the blueberries into the batter. (DO NOT eat the dough as there is raw egg
in it.)
_____ 4. Spoon the batter into the muffin pan. (3/4 full) Bake for about 15 minutes or
until golden brown. Use a toothpick to see if they're done.
_____ 5. Remove the muffins from the pan.
_____ 6. Serve warm and enjoy.
Yield: 6 large muffins
Nutritional Information: 1 muffin or 3 mini muffins
Calories 239 cal
Total Fat 9 g
Protein 4 g
Sodium 257 mg
Carbohydrates 36 g
Sugars 20 g (5 sugar cubes)
————————————————————–
Chicken and Cheese Quesadillas
 Ingredients
3 chicken tenders
1 Tbsp. oil
¼ tsp. oregano
½ tsp. garlic salt
1 Tbsp. lemon juice
½ cup cheddar cheese
½ cup pepper jack cheese
 1 tortilla per person
Salsa (optional per person)
Directions
______1.   Heat the oil in the skillet over medium heat (setting 5-6)
______2.   As the chicken is cooking, cut up the chicken into bite size pieces with the spatula.
______3.   When there is no pink in the center of the chicken, add the oregano, garlic salt and 
               lemon juice to the chicken.
______4.   Grate the cheese
______5.   On a serving platter place two tortillas side by side.  Spread the chicken on the 
               tortillas.
______6.   Place the cheese over the chicken and top each with another tortilla.
______7.   Microwave for 1 minute or until the cheese is melted.
______8.   Cut the tortillas into fourths or eighths using the cutting board and the pizza cutter.
______9.   Serve from the platter.  If desired, serve with salsa.
Yield 5-6 servings
Nutritional Information
Calories            239 cal
Total Fat             13 g
Protein                11 g
Sodium             645 mg
Carbohydrates   19 g
Sugars                   0 g
————————————————————–
Reese's Chewy Chocolate Cookies
Ingredients:
1 cup all-purpose flour
¼ cup cocoa powder
½ tsp. baking soda
¼ tsp. salt
*½ cup butter (1 stick of butter)
1 cup sugar
1 egg
1 tsp. vanilla
**¾ cup peanut butter chips
Directions:
____1. Heat the oven to 350º.
____2. Cream the butter and sugar in a large bowl with mixer until fluffy. (This should take 
            about 2 minutes.  The consistency should be like sand.)
____3. Add the egg and vanilla to the butter and sugar mixture; beat well.
____4. Mix together the flour, cocoa, baking soda and salt.
____5. Gradually add the flour mixture; mix.  
____6. Stir in peanut butter chips.
____7. Drop by rounded teaspoons onto ungreased cookies sheet or use the small cookie scoop.  Bake 9 minutes. (Do not over-bake. The cookies will be soft.  They will puff while baking and flatten while cooling.)
____8. Cool slightly remove from cookie sheet to wire cooling rack.
Yield:   4 cookies
Nutritional Information: 
Calories        563 cal         
Total Fat         30 g
Protein           10 g
Sodium          433 mg
Carbohydrates     76 g
Sugars            47 g
*substitute ¼ cup of applesauce for half of the butter/shortening.  If using Crisco shortening: ½ cup Crisco + 1 Tablespoon of water. Crisco has 50% less saturated fat than butter.
**the chips are peanut butter, substitute different flavor chips for peanut allergies.