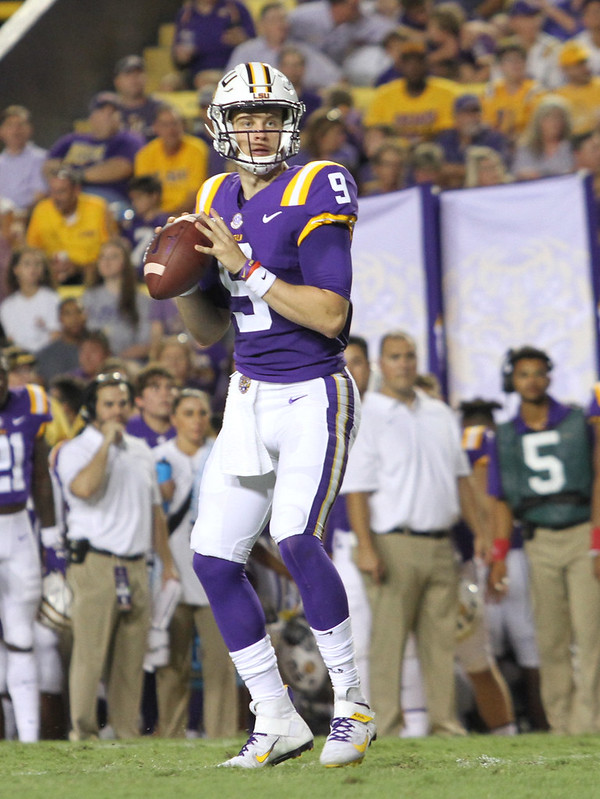 T. Baker from Flickr
Joe Burrow, Quarterback, Cincinnati Bengals: The Cincinnati Bengals quarterback and the first pick of the 2020 draft is doing better than expected even though he isn't able to take the team to multiple victories standing at 1-5-1, but is still doing really well throwing for 2,023 yards (3rd in the NFL) and 9 touchdowns. He could break many rookie records if he keeps putting on a show.
Justin Herbert, Quarterback, Los Angeles Chargers: LA has been experiencing some bad years since Philip Rivers declined and left to Indianapolis, but Justin Herbert has taken over and has been surprisingly good, as he led them to a win over the Jaguars last night where he threw for over 400 yards. He is putting up solid numbers, throwing for 1,542 yards, 12 touchdowns, and only 3 interceptions.
Mekhi Becton: The Jets have been the worst team so far in the NFL not able to win a game, but Mekhi Becton a rookie offensive tackle has been providing well and has been able to stop defensive tackles from sacking the quarterback. He has been good for one of the hardest positions to play, and can continue to do so if the Jets can find the right pieces they need.
Clyde Edwards-Helaire, Running Back, KC Chiefs: The Chiefs have really been relying on the rookie RB after he got drafted in the first round. He has been able to put up solid numbers, and ran for 161 yards, a career high against the Bills. He has rushed for 551 yards on just 115 attempts both in the top 10 in the league. If he is able to keep this up he may get himself the full time starting spot and maybe even break a rookie rushing record.
James Robinson, Running Back, Jacksonville Jaguars: The Jaguars aren't the best team in the league and they won't be until a few years, but James Robinson a rookie from Illinois State has started to take over. He was able to provide right away after the Jaguars released Leonard Fournette. He has ran for 481 yards on 107 attempts, and for 4 touchdowns. In all three statline James Robinson is in the top 10 in the league for rushing.