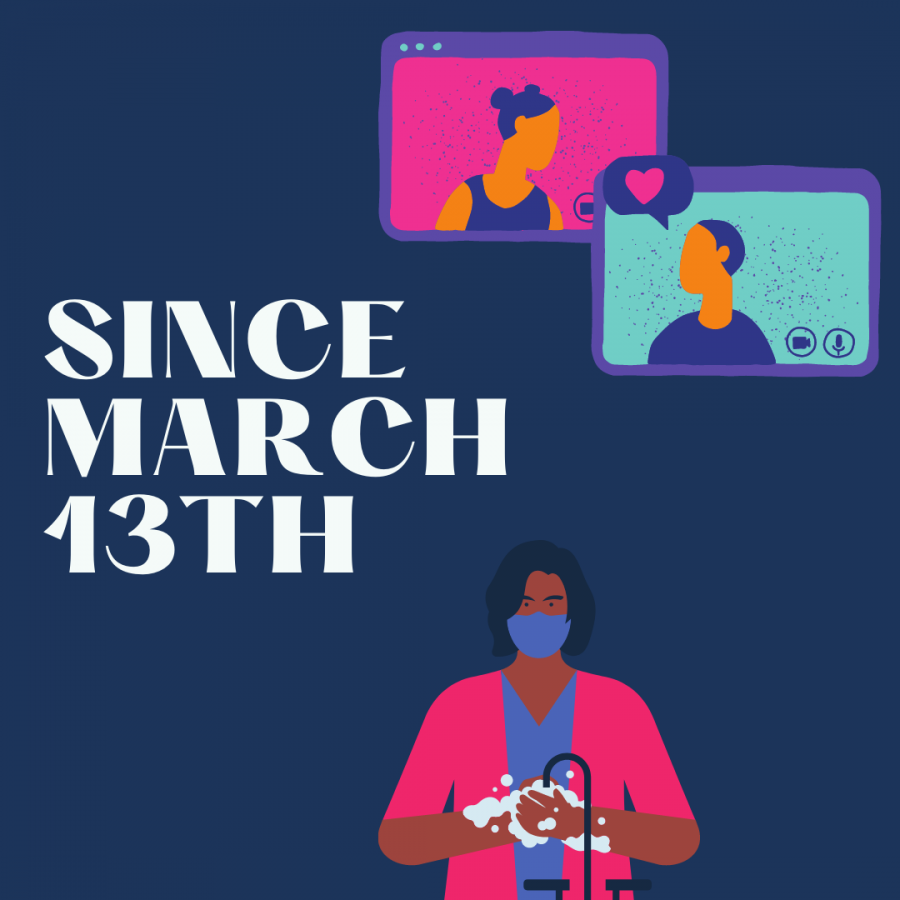 Graphic made by A. Guo
March 13th, 2020. The last day of normalcy for many in North Carolina. Positive Covid-19 cases in North Carolina numbered a mere 16, sports seasons were cancelled, and Governor Roy Cooper had just begun discouraging gatherings of one hundred or more people.
Now, positive cases in North Carolina reach around 882,000, while football players play with masks and half-empty bleachers. Virtual academy students log into school from their beds and kitchen tables and in-person students eat silently, six-feet apart. Vaccines have made their way into the arms of healthcare workers, long-term care facility residents, and even some Green Level teachers.
But behind the Google Meet student icons, what has been going on in the minds and hearts of Green Level students?
Some students have found more time to focus on things they hadn't been able to before like DJ Moreno who has, "taken care of myself by redoing my room and trying to stay organized." Maddy Linares who has been able to, "just relax and be with my family and play a lot of golf." Tristen Perkins who says he seized, "the opportunity to make a lot of money because of the stock market." Jingmin Zou enjoyed being able to stay at home reflecting, "I felt less stress; I have time to think about the future."
Many other students have found all the extra time to be much like Brendan Hartnagel feels, "It's been really boring." Matt Pickover even says, "It was probably the most boring year I have ever experienced." Along similar lines, Codi Reinegger described the past year in quarantine as, "lots of days that all seemed the same."
For others, like Ethan Curran, there were more frustrated feelings used to describe the past year, "I was on the top of the world, or that's what I thought to myself. Cleaning up the school, good grades, progressing my art path, and acting in the musical, I'd never thought it would all come crumbling down by the eruption of this virus. Musical? Cancelled and never to be performed. Trash duty? Gone. Arts? Too hard to do when you're at home. And not only that, I couldn't see my school or my outside friends anymore, and haven't in a year."
Isha Madasu also discusses how she misses life pre-Covid, "I was initially thrilled because we had a two week break and it was such a relief especially after working so hard prior to the quarantine. A year later, I miss my friends, I miss collaborating with peers and teachers, I miss being able to go to restaurants or movie theaters, I miss hugging people and handshakes and high fives, I just miss all of it."
Some students have even faced Covid-19 themselves or within their own families. Vivian Lin says other than her older sister, her entire family contracted the virus, "it sucks." But she says now that they're asymptomatic they binge a lot of shows and eat lunch with their bird, Lars, because he seems lonely, "it's pretty chill now."
Emerson Switzer also tested positive after a volleyball tournament, "Being alone for 2 full weeks was not something I enjoyed by any means," but she says she was able to read books, turn in missing assignments, and reconnect with friends she had not been able to talk to since Covid-19. She talks about how having Covid-19 made her realize how prevalent it is among us, "That may be really gloomy to think about but it's the hard truth, we all need to take care of each other and wear masks and socially distance because COVID is not fun. Just think about your family before you decide to not wear a mask and risk other peoples lives," encouraging, "It will end. Soon."
Many Green Level students have also had to deal with loss, Natalie Wilson discusses how her father lost his job and her grandfather is undergoing chemotherapy, "I have to take care of him when no one else is home, and my mom works a lot more now so I cook dinner 3-4 times a week to take things off her plate, I also clean the house, do dishes, and other chores to help her too." Wilson says it's been hard to take care of herself mentally but her friends and mother give her hope.
Advaith Cheruvu says he lost a family member during Covid-19, "It deeply affected my family. I could not attend the funeral and the whole situation was a mess in a virtual setting." He says he's trying keeping his family close right now. He has also raised money for Covid-19 research saying it, "gives me the satisfaction that I did my part."
"I lost my dog during quarantine," Brody Funk says, "That was the worst pain I had to endure during this mess. I really hope people will aim to get the vaccine so we can return to normal."
Mental health has also been difficult for many because of the long-term quarantine and virtual learning. One common sentiment is that it has been hard to focus in school, like Cole Troublefield who explains, "it can be difficult to learn what the teachers are trying to teach." Jillian Byrnes says the stress of school is overwhelming, "paired with loneliness it has just kind of sucked." And Jayden Williams explains how his mental health has worsened, "I started struggling with my ADHD and depression more than I usually do when I'm not constantly stuck at home."
But there were also hopeful statements: Janie Blewett, like many other students, say the vaccines are giving her hope, "It really shows that there's always gonna be a positive in the end, even if it took over a year to get a positive outlook on the future."
Some gators like Addy Rudolph find hope through their passions, "Music gives me another outlet for my emotions and also helps me pass the time. Through music I'm able to bond with the people around me and also express myself and how I'm feeling," or Hannah Gilmore, "Writing helped me escape and recharge from the chaotic and brutal reality of pandemic life, and my personal writing skills have improved considerably since the end of 8th grade with all the extra practice."
Sophia Nolan says she knows that we can persevere together, "Don't give up on yourself or anyone else."