NFL Draft: The 3 Teams That Won Big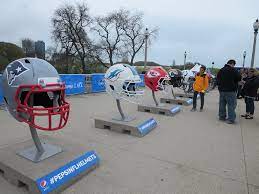 The 2021 NFL Draft is in the books, and there were many teams who had great additions to their roster from this draft. 
But there were 3 teams that stood out to me and hopefully the respective teams' fans, as they are going to have a very exciting season ahead of them.
#1 – Cleveland Browns
The Browns, after years of hardship and losses, have finally turned their 0-16 team into a potential division winning team. With additions of Baker Mayfield, Myles Garrett, and Denzel Ward in previous drafts, they've added multiple key assets to both their offense and defense. In the first round, they took CB Greg Newsome 26th overall. Newsome is great and only bolsters their already stacked secondary. He'll learn a lot under MJ Stewart and Ward, and can really help them shut down some of the better offensive teams such as the Chiefs. Their 2nd round pick, which was accepted as the steal of the draft — the Browns selected Jeremiah Owusu-Koramoah, LB with the 52nd overall pick. He's dynamic — he can bring a lot to the minimal Browns linebacking core. Athletic, Fast, and can tackle like a train. He's great, and I believe he can be a day 1 starter. And with their 3rd rounder, they added even more speed to the already nice wide receiving core with Anthony Schwartz, WR. Taken 91st, he can add a new dimension to the Browns receiving core, and can be a great deep threat for Baker Mayfield. He could potentially replace Rashard Higgins if he plays well enough in training camp and preseason. The Browns had a very nice draft, and played very smart and used their picks for valuable players.
#2 – Baltimore Ravens
I'm sure Ravens fans will be happy to hear that Lamar Jackson is getting more offensive help. With their first round pick they took Minnesota WR Rashod Bateman, which was arguably one of the better Baltimore draft picks in the recent years. He's an incredible playmaker — great hands, great speed, good size, and nice route running. As an addition, he's from Minnesota. Built for cold weather. He won't have any trouble fitting into Harbaugh's system, and when you're working with the dynamic Lamar Jackson, any receiver would be happy. Another one of their underrated picks was their 3rd round pick, Ben Cleveland. Nobody would have guessed that Ben Cleveland would have dropped to the 3rd round. He was a predicted late second rounder. But more protection for Lamar is great, as he is a running-style quarterback and the team does tend to use lots of heavy run plays in their offensive scheme. Great pick, and I bet Lamar is jumping in his seat. They also selected Odafe Oweh in the first round, who is a speedy and explosive linebacker who can replace their long time LB Matt Judon who signed with the New England Patriots this postseason. The LB position was a big need, and the Ravens smartly fulfilled that need with Odafe Oweh. I can see a big season for him ahead.
#3 – Minnesota Vikings
The Vikings pulled off a draft that surprised many people. Taking Christian Darrisaw, an athletic, powerful offensive lineman with their first overall pick was incredible. But the fact that they traded down from pick 14 with the Jets, got the 23rd pick, and 2 3rd round picks was Spielman magic. Their trading and getting value players is what won them this draft. And they took Kellen Mond and Wyatt Davis in the 3rd round. Taking a potential replacement for Kirk Cousins in a few years and taking potentially starting linemen in the draft was absolutely mind blowing by the Vikings. They also took Chazz Suratt, a UNC linebacker who previously played quarterback who is fast and powerful and can read run plays like a lion.