Is Justin Fields a generational QB?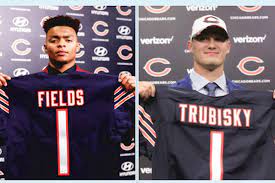 I know what we're all thinking. How did the Bears pull off drafting a generational quarterback? Have they made the right draft decision for once? These are questions that I personally have, and will have until he gets to call plays under center. We've seen this happen with the Bears before — taking a highly looked at quarterback early in the draft and then having high hopes for him and for the team. Trubisky's 12-4 2018 season looked like the highest point in his career and many expected him to play that way for a long time. But, that was cut short when in 2019 he had a huge down year and went back to the NVP. Trubisky was inconsistent, made bad decisions, threw picks, and was inaccurate. Just like Justin Fields, he was one of the best prospects in his draft class and almost every team seemed like they wanted him and his skill set. 
Here's the deal — Nagy could have been the cause for Trubisky's fall from grace. He's the one that put him up there in 2018, and brought him down. Years of mismanagement and not giving him a consistent #2 wide receiver could have also been the problem. Fields is great — athletic, runs a 4.4 forty yard dash, and has a missile for an arm. Yes, his thinking and decision making can be improved, but that's something that the Bears and Dalton can work on to polish him into a starting quarterback. If he turns out to be great and not a bust, then the Bears can compete for the 1st and 2nd spot in their division. If he does turn out bad, it's another draft bust that'll be inconsistent and he'll soon be traded to a team who values his potential. 
I do believe they have a decent offense. Allen Robinson is a great wide receiver who puts Fields in a great position to succeed. Tarik Cohen, David Montgomery, and Damien Williams are also part of a great backfield that'll help him. The O-Line could be improved, but their rookie Teven Jenkins looks like a very good draft pick. Damiere Byrd was signed and he is a good deep threat receiver that can make plays. As long as they make sure that Fields gets what he needs to improve and succeed in Chicago, he'll be a franchise starter for many years to come.