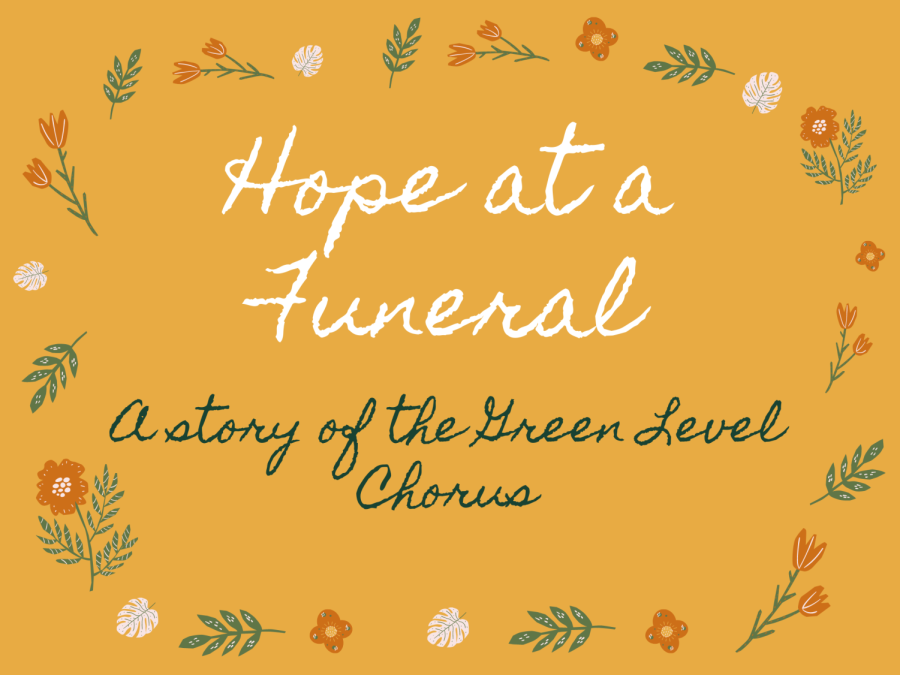 Graphic made by A. Guo
"I know that you're not really supposed to feel happy at a funeral, but I knew it was what Mema would have wanted."
That's how Addy Rudolph, a junior at Green Level High School, described feeling while watching the Green Level choir (one she has been part of since the creation) perform at her grandmother's funeral.
The story began a few years ago when Rudolph's grandmother was diagnosed with a terminal lung condition, "She was going to be dying soon but we didn't really know when." Meanwhile, Rudolph was greatly involved with the choir at Green Level, performing at fundraisers and events, taking multiple high school classes, and creating supportive relationships with other singers through the organization. 
This past school year, the Treble choir began singing a song called "Total Praise" by Richard Smallwood. One of their performances of the song was recorded and Rudolph thought it sounded really good. Afterward, she shared it with her family and her grandma reacted by saying it was one of her favorite songs ever, even declaring that she wanted it to be played at her funeral. Rudolph said knowing so created a lot of depth to the song, "It kind of made it hard to sing, but it felt like I was connected with her in a way."
Shortly following, Rudolph's grandmother's health condition had begun to deteriorate at a faster rate, and due to Rudolph's close relationship with the Green Level choir community, she would talk with Steven Olson, her choir teacher, about the subject. She explains, "I already had told him it, [her passing], was gonna be in the next couple of weeks and he was just like, 'Well if you ever need a choir or anything we would be more than happy to collect a few people and sing at the funeral.'" Rudolph said she never told her mother at the time because she didn't want to add any additional stress to all the unknowns at the time, but agreed to the idea.
Rudolph's grandmother passed away while Rudolph was in chorus class. Rudolph says, "It was really hard, but apparently, from what my mom told me, she died while we were singing Total Praise." Once going to her teacher for support, Olson again offered for the choir to come and Rudolph's mother wholeheartedly accepted, saying, "Mema would've loved that cause she really wanted a choir to sing [Total Praise]."
So Olson asked the 36 person Treble choir to perform, and while Rudolph and her family only expected around ten people to come, more than double the number of people showed up. Alyson Springer, a junior at Green Level, was one of those people and while she mentions that Rudolph is one of her closest friends she also explains the main reason she wanted to go, "A huge part in general that I'm a part of chorus is because it is a community and that is over anything musical. Just being there for the community." 
I want to tell you a story that reminded me that people can be forces for good and maybe even channel the divine. It is about more than any special new educational program or our arts program. It's a story about love.
— GreenLevelFineArts (@fine_level) September 19, 2021
The Treble choir performance at the funeral was warmly received, Rudolph says she was seated next to her great aunt who at the climax of the song, grabbed her thigh and exclaimed, "They sound like angels!" Rudolph herself says she found herself crying, "It was not happy tears. I was sad for losing my grandma, but it gave me a lot of hope and it was really comforting."
Through the opening of the school and amidst the pandemic, Green Level chorus has provided a community for so many students like Springer, "It's nice to have a place to go where you know [you're] always going to be okay and safe and have fun and be with people you love. These are my best friends in the entire world and they're all in this [chorus] room." Further explaining how many of those friends make up her emotional support system like Rudolph, "Addy is one of my best friends in the entire world. She means the entire world to me, so all chorus things aside, being there for Addy was really important to me personally."
Rudolph herself describes what the community means to her, "It's a really, really positive and encouraging environment and anyone can come in and know that they won't be judged. We're all very different people but we are able to come together and support each other because of our love for music."