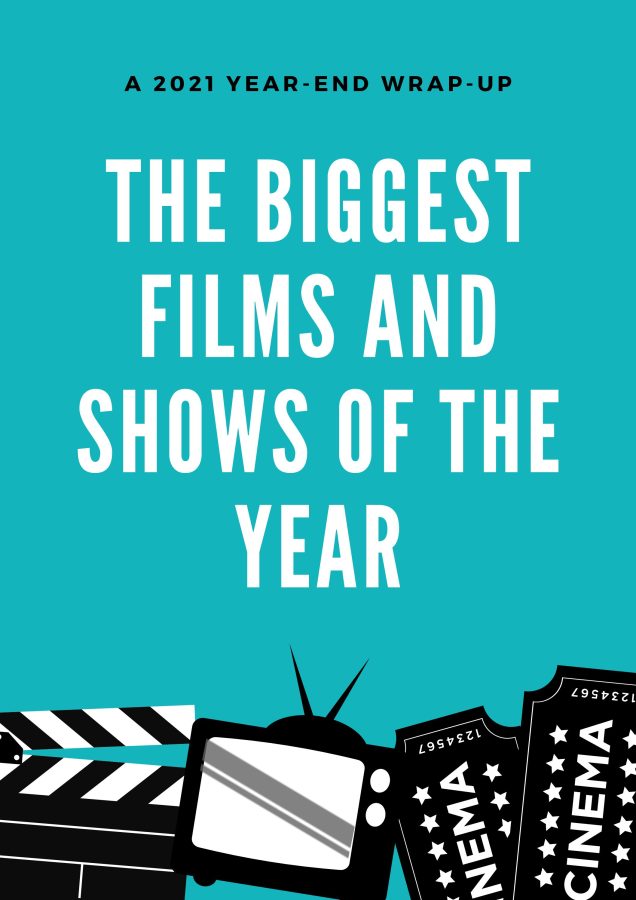 2021 marked the reopening of theaters and production studios as improvements in Covid-19 case rates allowed for a relaxation of protocols. Highly anticipated films that were originally postponed at the height of the pandemic were finally released and many popular shows began filming again. The entertainment industry was back up on its feet, and many stunning films and innovative TV shows were released. 
In early 2021, Godzilla vs. Kong was released. The battle between the two creatures made close to $500 million at box office. Although, Godzilla vs. Kong was not the only sequel to be released. Two more movies, Venom: Let There be Change and A Quiet Place: Part II were released this year as sequels to the popular movies Venom and A Quiet Place, making $400 million and nearly $300 million respectively at the box office. Not only movies but several popular shows were extended this year, including Netflix's Outer Banks and Never Have I Ever.
Marvel is one of the biggest movie franchises in the world. In 2020, the company announced many new series and movies which would soon be in production or available to fans following the release of Endgame (2019). Many of these new projects were released this year with fans eager to watch. Directed by Matt Shakman and starring Elizabeth Olsen as Wanda and Paul Bettany as Vision, WandaVision was one of Marvel's biggest releases this year, earning 4.8 billion minutes-watched over its nine-episode, eight-week run. Soon after the ending, Marvel followed up with another anticipated release of The Falcon and the Winter Soldier. Throughout the year Marvel also went on to release 2 more shows, Loki and Hawkeye. Along with TV shows, Marvel also went along to release a few movies such as Black Widow, Shang-Chi and the Legend of the Ten Rings, and Eternals. Each of these movies ranked in the top 15 of the 2021 Worldwide Box Office and were incredibly popular and successful among Marvel fans.
Disney had a very good year as well, pumping out movies that received loads of critical acclaim and brought financial success to the billion-dollar corporation. One of their most popular films this year was Jungle Cruise. Based on Disney's theme park ride of the same name, the film saw Dwayne Johnson and Emily Blunt journey through the jungle on a dangerous expedition. The success of Cruella, starring Emma Stone, proved that Disney's live-action adaptations are just as refreshing as the originals. The film, based on Cruella de Vil from 101 Dalmations and directed by Craig Gillespie, earned $233.3 million at the box office. However, Disney and Pixar still stayed true to their animated roots with the release of Luca. All three of these movies can be streamed on Disney's streaming service, Disney Plus!
While Netflix's smash hit show Squid Game's script was completed in 2009, filming reportedly hadn't begun until September of 2020, releasing almost exactly a year later on September 17, 2021. The premise of having struggling and desperate adults play several children's games with a dark twist for a cash prize hooked viewers worldwide; Netflix reports that Squid Game drew 142 million subscriber households in its first month, becoming the platform's biggest show ever. 
Dune, based on the 1965 science fiction novel by Frank Herbert, began its filming in 2019, and a little more than two years later, it was released on October 22, 2021. Its star-studded cast built loads of anticipation amongst fans, boasting Timothee Chalamet, Zendaya, Rebecca Ferguson, Jason Momoa, Josh Brolin, and more on the lineup. Combined with a mindblowing visual experience, the movie managed to wrack up nearly $400 million at the box office so far, becoming the 10th highest-grossing film of 2021. (Check out our review of Dune here!)
No Time to Die saw Daniel Craig returning to the big screen as James Bond for the first time in 5 years, making it his fifth and final appearance as the famed British super spy. Accompanied by a theme song performed by Billie Eilish, the film grossed more than $764 million worldwide and was one of 2021's biggest box office smashes. Another wildly successful motion picture, F9: The Fast Saga, was released this summer. Directed by Justin Lin, the ninth installment of the Fast and Furious franchise starred Vin Diesel, Michelle Rodriguez, John Cena, and more. Despite several delays, the film series' fanbase did not disappoint, setting several pandemic box office records.
2021 has been a great year for movies and TV, with hits coming from many different studios and franchises. We hope that next year is just as great if not better!