Green Level Golf Performs in State Tournament
Yesterday, Green Level Golf teed it up for the last time this year, at Pinehurst #8. The boys would face off against the 13 best teams in the state, in a two day competition. Only four players represented each team, and all four scores would count for a cumulative team score.
Green Level would bring two seniors in Caden Covington and Benjamin Hays. I asked Ben how it felt playing in his last high school golf match. Ben was proud, saying "It's been amazing watching this team develop the past couple years. I am proud to be a part of it, and have made lots of memories along the way."
Caden, when asked about his favorite high school golf memory, goes back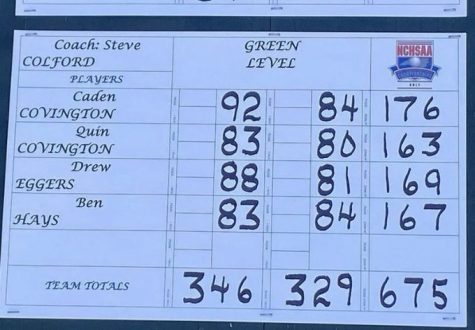 to his score at Prestonwood. "Shooting 35 at prestonwood was really nice. I got it done at my home course."
The other two competitors were Quin Covington and Drew Eggers. Quin, a freshman, was the 5th best placed freshman at the competition. Quin had two impressive rounds with an 80 and 83 respectively. Quin said that "it felt really good. I have practiced a lot and it was nice to be one of the few freshman at states." Drew improved by seven strokes to shoot a second round score of 81. He said that this experience is "a big confidence booster for tournaments in the summer"
The State Tournament was a story of two rounds, with massive improvements on the second round. The Gators improved 17 strokes from their first day 346. This improvement saw the gators finish in 11th place in a very competitive competition.
Congratulations on a incredible season Gators!