The "Puffs" Audition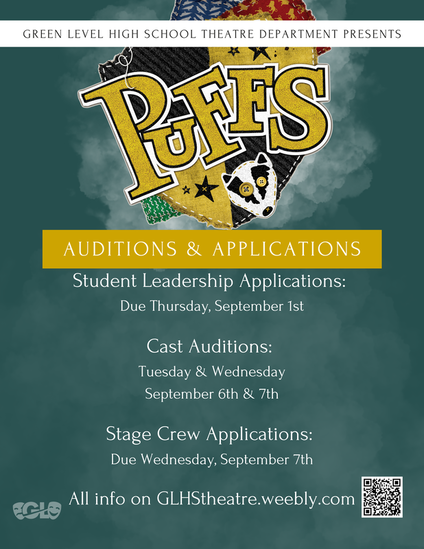 Last week, on September 6 and 7th, Green Level's theatre department held auditions for the upcoming play "Puffs". "Puffs" is a comedic retelling of a certain well-known magical universe. Most of the show takes place focusing around the house titled "Puffs". "Imagine if the story of a wizarding boy was written by SNL", describes Ms. Craig, the theater teacher, and director. 
During the auditions, 40 students had to come in prepared with memorized monologues and were tasked with an improv scene. Students were able to come in on whichever day they wanted, but both days had the exact same audition process to reduce bias. Auditions were stressful for many students! It can be exhausting to put yourself in front of an audience to be judged on your talent. 
Megan Hoggarth started theatre when she was just in elementary school. She began taking it more seriously at the age of 9 by attending theatre camps. Even with her experience, Megan faced audition anxiety, "I was really nervous, I felt like there was a lot of pressure." The energy in the room itself helped calm Megan's nerves, "Seeing friends that we haven't seen all summer was really fun especially since we are in different grades," Megan expressed.
We are so proud of everyone that auditioned and look forward to seeing the show in October!