Catamounts Vs. Gators: Rivalry Tennis Match
This Thursday, September 15, the Gator Women's Tennis team will face off against their big time rivals, the Panther Creek Catamounts, on their home courts at 3:30.
The Catamounts are always big rivals in any sport at this school and tennis is definitely no exception. With big rival matches, players tend to feel nerves about upcoming face-offs between rivalry schools. Sophomore, Riya Pragada, shares, "We basically have strategies that we use, it doesn't matter if it is doubles or singles, but we just keep fighting and just play your own game and don't let them get in your head".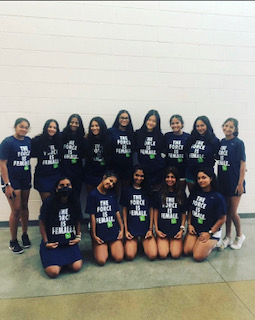 Along with having possible nerves about playing their rivals, there are also some expectations for the players as to how they are supposed to play after coming off of a great season last year. Junior, Ariana Mohan talked to me about those expectations. She said, "It definitely impacts the team because we have expectations on us to have the same results as last season, except it is important to keep in mind that we are not the same team. We have new players, some of our players left. So it definitely sets high standards and expectations but as long as we are putting in our best effort, I think that is all that matters and it's important for everybody on the team to understand that."
Ariana Mohan and her doubles partner, Diya Ramchandani (now a freshman at Duke University), made it all the way to regionals and even to states. Along with Ariana and Diya having a great season, the whole team played exepctionally well and played with confidence.
The Gators have started off the season hot and hope to continue that when they play the Catamounts. Good luck and play well ladies!