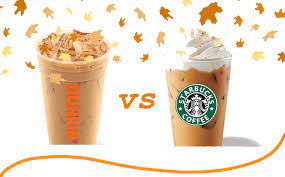 Starbucks vs. Dunkin: Fall Edition
September 19, 2022
As fall approaches, famous chains such as Dunkin Donuts and Starbucks start releasing their annual fall flavors. Dunkin Donuts, known for its coffee and donuts has always been a favorite for its variety of flavors. Meanwhile, Starbucks has been known for its over-the-top menu items and customization. High school students especially love these two chains because they provide caffeine on the go. With new fall flavors, such as pumpkin spice and apple crisp, being available on the menus, the excitement to try these menu items has increased, to say the least. We decided to review the fall menu items from both chains. 
Starbucks
Starbucks Review
This week I tried the Pumpkin Spice Latte, Pumpkin Cream Cold Brew, and the Apple Crisp Oat Milk Macchiato. 
Pumpkin Spice Latte
Starbucks is a master at making Pumpkin Spice Lattes. For those who love a sweet latte with just a hint of espresso's aftertaste, this seasonal classic has just the right amount of sweetness and pumpkin flavor!
Pumpkin Cream Cold Brew
The Pumpkin cream cold foam on top is to die for! This drink is the least sweet and most coffee-forward. The pumpkin cream tastes more like vanilla and has a subtle pumpkin spice flavor. 
Apple Crisp Oatmilk Macchiato
This fall drink is perfect for those who aren't a big fan of pumpkin. The hot macchiato is the perfect knock-off of a warm apple cobbler! The apple flavor is not too overbearing and blends well with brown sugar syrup.
Dunkin
Dunkin Review
I tried the Pumpkin Spice Signature Latte, Nutty Pumpkin Coffee, and the Pumpkin Chai Latte. 
Pumpkin Spice Signature Latte
This has always been a classic for the Dunkin fall menu. It's sweet, but not too overpowering. You can also still taste the pumpkin flavor and it's the perfect balance of sweet and spice. It's the definition of fall in a cup!
Nutty Pumpkin Coffee
This relatively new menu item has the perfect balance of coffee, pumpkin spice, and hazelnut. The hazelnut wasn't sweet, so it added the nutty flavor that makes the drink so unique. It's not too sweet, making it the perfect fall drink for those who need caffeine. 
Pumpkin Chai Latte
As a big fan of chai tea, this drink expresses the flavors well. The chai wasn't overpowering the pumpkin flavor, but they instead blended together well. Although it was a little sweeter than expected, the mixture of flavors was perfect.