Devastating Hurricane in Puerto Rico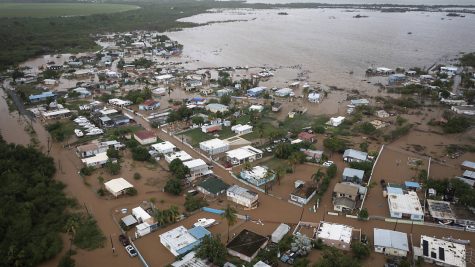 A. Khare, Staff Writer
September 23, 2022
Hurricane Fiona made landfall on the southwest coast of Puerto Rico on Sunday. The clouds from the storm covered the entire island and winds at the eye of the storm were up to 140 mph. This storm dumped lots of rain on the island, knocked out power, and left thousands to be rescued and evacuated.
Before the storm, Puerto Rican authorities opened up shelters and President Joe Biden authorized FEMA to arrange disaster relief on the island. Many residents also boarded up their windows in Loaiza, on the northern coast of Puerto Rico.
In some places, as many as 30 inches of rain drenched the island. The flooding caused landslides, damage, and destruction of homes and infrastructure. Lots of the infrastructure that was destroyed was built after Hurricane Maria hit Puerto Rico in 2017.
Another looming problem is that all the power on the island has gone out, resulting in a total blackout. LUMA energy handles and distributes the energy across Puerto Rico. They said that a full restoration of power could take days "due to the magnitude and scope of the blackout," but added on to explain they do have the resources necessary to respond to the blackout.
During a press conference on Saturday, Pedro Pierluisi was making an update about the impact of Hurricane Fiona. While he spoke, the lights went out for a brief blackout period, demonstrating how fragile the electricity is due to the storm.
The hurricane has continued moving north, hitting the Dominican Republic, Turks and Caicos, and the Bahamas. This is just the third storm for this year's hurricane season.
Anyone who wishes to help can donate to this list of specific organizations.