Men's Soccer Falls to the Falcons
On Wednesday, Sept. 28th, the Men's Soccer Team competed against the Green Hope Falcons to wrap up their first round of conference play. 
It was a well-fought and low scoring game with a final score of 1-2, allowing the Falcons to walk away with the win. Though the Falcons are ranked 1st in SWAC with a conference record of 6-1, the Gators were able to stick with them. Possessing in the middle field and maintaining a strong defense, there were only minor errors that unfortunately led to goals for the Falcons. By the end of the first half, the score remained 0-0. In the second half, the Falcons were able to secure a goal around the 20 minute mark and another when there was just 10 mins left. However, the Gators did not give up. After being fouled between the half field and 18' yard box, Thomas McPherson stepped up to take the free kick. He decided to shoot rather than cross; scoring a great goal, leaving the Falcons in shock. Still being down by a goal, the Gators continued to fight until the very last minute. However, they were not able to secure again, ending the game in a 1-2 loss.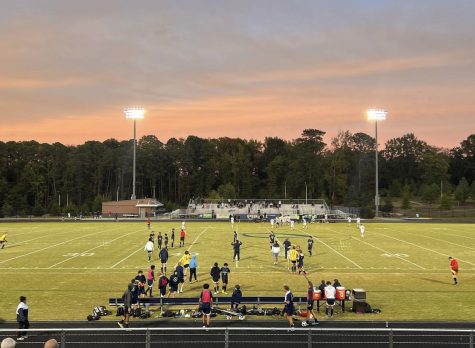 The Gators also competed against Panther Creek this past Monday, September 26th. They were able to secure the win, however it was a long fought game. The Catamounts came out stronger than expected, putting one on the scoreboard in the second half, but not long later, SR. Thomas McPherson leveled up the score with a beautiful goal to finish out the regulation time. In overtime, the Gators were able to get ahead after SR. Ethan Bachelor managed to score.
Helping the Gators on the back line, SR. Sean Townley says,
"It was a solid team effort and we were disappointed that we didn't come away with more. We have proven that we are right up there with the best teams in the state and we hope to shift some of those close score lines in our favor going into the second half of conference play." 
The Gators will face off versus the Apex Friendship Patriots for the second time this season on Monday, October 3rd, to hopefully beat them once again.