COMMITTED: Maddy Linares to University of Lynchburg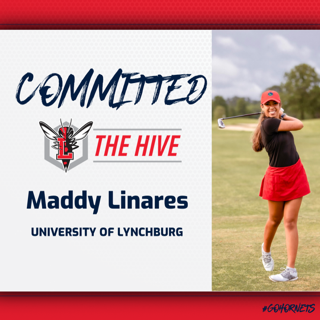 Maddy Linares has been one of the top players on the Women's golf team for the past 4 years. This year has been no different except for the fact that her scoring average for the season is an amazing 35.7 and she is on top of the conference. Maddy has earned 3 medalists of the matches this season with low scores score ranging from 37 to two scores of 33! Maddy has been on absolute fire this season and she hasn't even reached the post-season.
Maddy committed to Lynchburg this past Friday, September 30th. Maddy is the first student in the history of both of this school golf teams to commit to play golf at the collegiate level! I got the chance to speak to Maddy about her recent commitment:
Has playing golf in college always been a dream of yours? If so, has that dream pushed you throughout your junior golf career?- "Playing golf I think when I was really young, it was never really a dream of mine. It almost seemed like, not impossible but something I never really thought of. I was just kind of playing tournaments and not thinking about stuff like that. I think as I got older, more towards the end of middle school and beginning of high school, I was like yeah, this is what I want to do in college because I couldn't imagine going to college and not playing golf and not being on a team."

What things are you most excited about playing golf in college?- " I definitely think getting to bond with the team because with Lynchburg, the team aspect was on of the biggest parts of my decision and I think just being able to practice with a team and workout together. Also just being able to get better and eventually win college tournaments with them is important."

If there was one thing that your younger self knew about playing golf (mentally, physically,etc.), what would it be?- "I think it would be to not always worry about the score and to just stay in the moment and good things will come in the end. If you are worrying about what will happen next then you are not staying in the moment and it s gonna most likely mess up what is going to happen in the future. Just let the good things come."

How was your commitment process, was it hard and long or short and easy?- "For me, it definitely wasn't easy because talking to coaches is scary, especially the schools that have higher ranked teams. Talking on the phone is also really scary at first. For me it took probably a little bit over a year but I know some people that it has only taken a couple of months depending on how good they are or the decision that they wanted to make. I wanted to make sure that I knew exactly where I wanted to go."
Congratulations Maddy and we cannot wait to see you thrive at Lynchburg! Go Hornets!!