SWAC XC Champions
The Green Level Cross Country Team competed at the SWAC Championship Meet on October 18th at WakeMed Park. 
The Girls Varsity Team ran exceptionally well, finishing 1st overall and having 5 runners make all-conference. Sr. Kaylie Dziedzina placed 7th overall with a time of 19:20.80. Not far behind, three more Gators finished in sequence, securing the 9th, 10th, and 11th place spots. Jr. Caroline Cornell placed 9th with a time of 19:42.88, Fr. Sadie Wortman placed 10th with a time of 19:47.37, and Jr. Eliza Greengrass placed 11th with a time of 19:53:02. The fifth runner for Green Level was So. Delaney Coleman who placed 13th with a time of 19:58:58.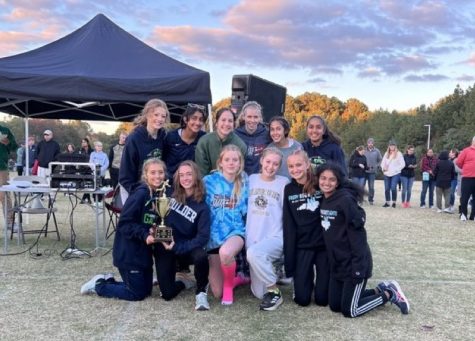 "We all came in with a positive attitude, we all huddled before the race, and we all just told ourselves that we can do this and we deserve this and we've been working all season for this", Dziedzina states.
With a total of 41 points and a 19:44 average time, the Green Level Girls Varsity Team won 1st overall, making them the 2022 SWAC Cross Country Champions.
They defeated the six-time State Champions, Green Hope High School, by a faster average time of over a minute.
When asked how it feels to win first place as a team, Dziedzina states, "The outcome was so great our top 5 runners all ran under 20 minutes and that was something that has never happened before and it was just so great to see… It honestly felt amazing, the race was really tough but it was a great competition for everyone and I feel like every girl had someone that they could look at and just push them to the end."
The Gators will continue their season at Regionals in roughly two weeks.
The Green Level Varsity Boys also had a strong performance, placing second in the conference. They finished with an average time of 17:03 and a total of 87 points. Alex Fernandez placed 7th overall with a time of 16:25.12, and SR. Evan Hall placed 13th with a time of 16:47.28. With Fernandez and Hall being in the top 14 finishes, both runners made all-conference. Within the Cross Country program as a whole, the Green Level JV Girls finished 2nd overall and the Green Level JV Boys finished 4th overall.
We are beyond proud of our Green Level XC Program and wish them the best of luck as they go on to compete at Regionals in the upcoming weeks.