GO BLUE DEVILS! – Lauren Martinho Commits to Duke University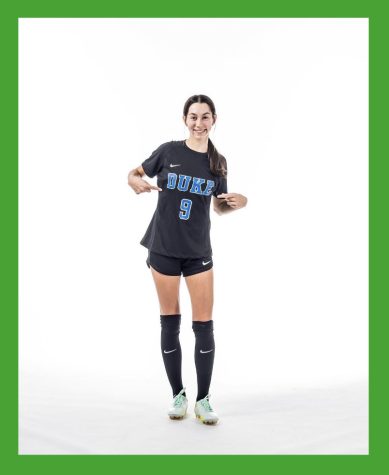 Lauren Martinho is a name to remember. She's been playing soccer for about 13 years but Lauren doesn't just play soccer for any ordinary club, she plays for the U17 Women's National Team! Lauren has led her team to many wins, one of those wins being the Concacaf U17 Championship.
Lauren announced her commitment to continue her academic and athletic career at Duke University on November 1st, 2022.
I asked Lauren a few questions regarding her recruitment process and what prompted her to pick Duke:
What was your recruitment process like? "My recruitment process was very cool for me because I had a lot of opportunities to visit colleges I've been interested in. College coaches have been coming to my games and watching me play. This led to me being invited to visit many colleges across the country. I got to speak with so many intelligent coaches and this helped me with choosing the best school for me. My family and friends really supported me throughout the process. It was a long process but I'm glad I took my time to choose the school I wanted."
What other schools were you interested in and what made you choose Duke?  "I had a lot of options some of my top ones were South Carolina, UNC, Duke, Virginia, Penn State, Stanford, and Notre Dame. I chose duke because their academics and soccer program are run by very supportive people who run great programs. I like the conference Duke is in and the team's style of play. As a midfielder, I feel like I'll fit right in. It was a tough decision but Duke felt like the right fit for me and I'm really excited for the opportunity to play there."
How has Green Level Influenced you as a soccer player? "The support from all my teachers, counselors, and principals has been amazing. I go to many soccer camps and my teachers are extremely supportive and help me with my missing work. Missing school in general for soccer teachers talk to me about it and are interested in hearing about it.  The community at Green Level is very supportive. I didn't actually play for the Green Level team but the help and support from the school has really shaped me and made me a better soccer player."
What has your experience been like playing for the national team and how has it prepared you to play at the collegiate level? "Playing for the National team has been a dream and honor. Competing at the highest level is amazing. When I am able to go to camps I really enjoy being in that environment and playing with girls all around the country who put in a lot of hard work and effort is really cool for me to be a part of and it's a blessing to be around these people. I played in the U17 World cup and we made it to the Quarter Finals. The speed of play on the national team is really gonna prepare me for the college team. I think that college and national soccer levels are very similar and I think playing for the national team has prepared me physically for the college level. The mental aspect of playing these games has helped me develop mental toughness and I am really able to focus on the game.
Congratulations Lauren! Looking forward to seeing all that you accomplish at Duke! Go Blue Devils!!!