Wrestling Season Is Underway
Our Green Level wrestlers have wrapped up their first week of meets to start the 2022 winter season.
This past Wednesday, November 16th, they competed in their first meet of the season at Wake Forest High School. They picked up two big wins; defeating Louisburg 75-6 and Wake Forest 60-24.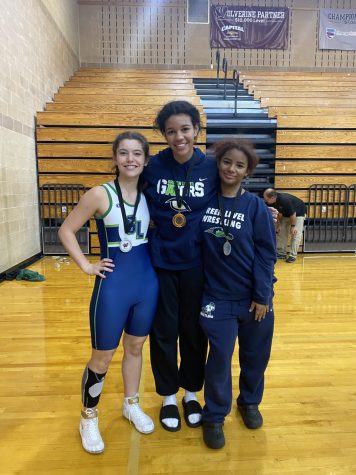 A few days later they competed in the Wolverine Challenge Tournament in Wakefield on Saturday, November 19th. It was a long day for our Gators as they woke up bright and early to travel to the home of the Wolverines and did not wrap up their matches until late in the evening.
Prior to the meet, Junior Margot Nestor said, "I am excited and I don't know what to expect. I am grateful to get representation out there and show that girls can wrestle along with the dudes."
The women's wrestling team placed 6th overall with a total of 49 points and the men's team placed 11th overall. 
Individually, Owen Dille placed 4th in his division. For the JV team, Egor Provorov and Trott Ivey both placed 1st in their divisions. Josh Brezac, Lachlan Perkins, and Sidharth Dutta placed 2nd. As well as, Ronel Xavier placing 3rd.
Many of our wrestlers on the women's team placed in their divisions: Margot Nestor placed 2nd and scored 14 team points. Jiselle Riley placed 2nd and scored 14 team points. Soph. Lily Silvera placed 3rd and scored 7 team points. Jacquelyn Ball placed 4th and scored 6 team points.
Nestor had the 3rd fastest pin in the women's division, ending her first match in 17 seconds, and going on to win 2 out of the 3 matches she competed in. 
They will compete again on November 30th where they will take on the Cary Imps at Home. 
With this being her first year wrestling, Nestor says, "Representation is important because if another girl sees that girls can wrestle especially as a team with Green Level it shows inclusivity and that it is not as far-fetched as one might think… All you have to do is step onto the mat and have the motivation to be there and you will fit right in and aspire others."
Be sure to go out and support our Gators as they continue their season!