The NC Chinese Lantern Festival is Here!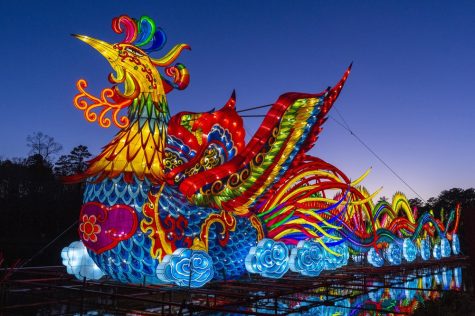 Looking for a fun and unique experience this Winter season? The NC Chinese Lantern Festival is live from November 18th to January 8th at Koka Booth Amphitheater.
Going on its seventh year of operation this festival of lights and colors has more than 40 different displays crafted by Chinese artisans, each displaying expert craftsmanship and artistic beauty which will surely capture your attention. Some events even include immersive experiences as well as displays you can interact with and touch, with plenty of opportunities for pictures. This festival also includes live performances every night from different aspects of Chinese culture such as acrobatics and dances.
The festival also offers exclusive experiences such as the Golden Hour time period, which allows a 90-minute window during sunset for the best photo opportunities. Also offered, is the VIP (very important panda) tour which gives you a 45-minute all-access tour to learn more about all the displays and their origins.
For those considering going to this festival of lights, it is a cashless venue and also requires booking prior to the event as it has become one of the most popular attractions in the area.
Be sure to check out the Chinese Lantern Festival this winter season as an opportunity to enrich yourself with Chinese culture as well as be a spectacle to the eye.