Wrestling Celebrates Their Senior Gators
Our Green Level wrestling team competed at home versus Green Hope yesterday, January 11th, for their 2022-2023 senior night. They celebrated six seniors: Owen Dille, JJ Marino, Egor Provorov, Tom Rotem, Cicero Leak IV, and Trott Ivey.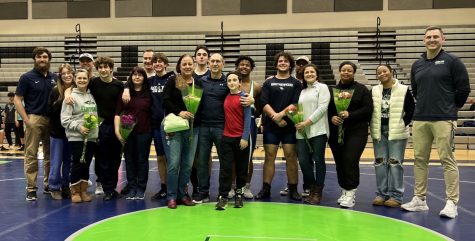 Coming off of a strong victory at the Wakefield Winter Rumble where the varsity boys finished in 1st place and the varsity girls finished in 3rd, the team was confident that they could celebrate their seniors with a big win against the Falcons.
All of the winners of yesterday's matches include Sam Kulp, Gabe Sadler, Gingerich, Marino, Provorov,  Aiden Middleton, Symon Sadler, & Will Estes. 
Marino secured a 38-second pin and Provorov got a pin in the 2nd period putting the Gators in the lead and helping them win 40-32 against the Falcons. 
When talking to Rotem about the match yesterday, he said, "I think we did really good, I think Green Hope is a really good team. We've improved a lot since last year and I'm proud of how far we've come."
With it being his last season of wrestling here at Green Level, Rotem says, "I've wrestled almost all of my time in high school, so this meet was really meaningful for me."
They will compete again next Wednesday, January 18th, at Apex Friendship. Best of luck as they finish out their 2022-2023 conference season!