Green Level Students Sweep the Scholastic Awards
Every year, students from all across the country submit their work to the prestigious Scholastic Art and Writing Awards. The awards consist of Gold Keys, Silver Keys, and Honorable Mentions across regions. This season, a whopping 18 student artists from Green Level won some form of recognition. Some, such as Megan Gungor and Rebecca Yang, even won multiple awards.
"I'm really pleased we had so many awards this year," said Mrs. Klenow. "I encourage lots of people to apply… sadly, in the art world, rejection is a part of it."
Senior Alex Lee's piece, "Voucher de Soleil Sur la Dame de Far," ("Sunset at the Iron Lady") won a Silver Key in the mixed media category. His work depicts the geometric beauty and precision of the Eiffel tower, referencing a photograph he took on a trip. He replicated the tower in bold strokes of blue and orange for contrast and took the additional step of implementing 3d shapes to pop out and highlight the sharp angles in the building. The piece took about a week to complete, and Lee found himself "going with the flow" to enjoy the process of creating it.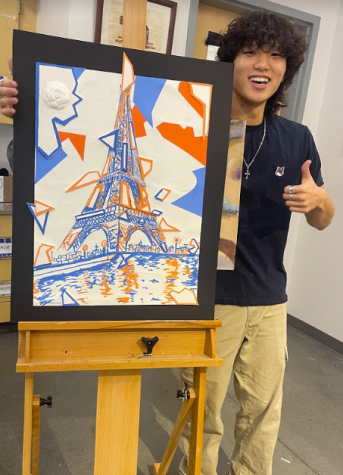 "With this piece, I did whatever came to mind. I wasn't trying to focus on making it exact," Lee shared.
Lee's been an artist since elementary school and has taken art classes at Green Level for all four years. He enjoys painting in acrylics and finds inspiration from expressionism, which shines through in his bold lines and colors. He's a passionate artist and a deserving winner.
Lee's classmate and fellow senior Lorraine Inman won not one but two Scholastic awards for their portfolio work. 
Inman submitted two portfolios to the contest. The first, "The New West," won a Silver Key. It was an adapted version of Inman's portfolio for AP 2d Studio Art and examined the differences between a historically accurate "old west" and its cultural recontextualization. 
"A very large percentage of cowboys in the old west were people of color. Women, for example, had a lot of prominent authoritarian roles. It was also a haven for queer people looking to escape the confines of traditional society," said Inman. They used a variety of mediums to highlight the true diversity of the era and the contrast between interpretation and reality.
Inman's other portfolio, "Lest Monsters We Become," won an honorable mention. This portfolio was adapted from their AP Drawing portfolio and featured a contrasting theme. They wanted to examine the history of vampires as a queer analogy through history, starting with their popularity in gothic literature from the Victorian era. Despite winning the lesser award, "Lest Monsters We Become" was Inman's favorite of the two portfolios.
"As artists, we're always trying to grow and change and improve our art," says Inman. "And sometimes to improve, we need to try new things, make something that looks different, sometimes make something that looks bad. But in a portfolio, we're trying to stay cohesive and produce high-quality work."
Inman's art is influenced by various works throughout time, from the traditional figures and lighting from renaissance and baroque movements to inking from vintage comic books to the dark themes of Vertigo comics. Their favorite piece submitted, entitled "Voicemail," combined the traditional mediums of oil pastels, India ink, and watercolor into a uniquely modern work. Synthesizing history and pop culture into new products is what Inman does best.
Inman and Lee are only two of the many talented artists at Green Level. Congratulations to all of our Scholastic winners! The complete list of the awarded students is below.
Portfolio:
Lorraine Inman

Megan Gungor
Gold Keys:
Silver Keys:
Megan Gungor

Cove Kolbach

Alex Lee

Sophia Lee

Esha Macha

Nisharga Natarajan

Rebecca Yang (x2)
Honorable Mentions:
Caroline Chen

Francesca Gervaise

Shreeya Joshi

Emma Leddy

Junho Lee

Em Ockert

Amishi Mishra 

Haimeng Yang