MLK Day Showcase: Green Level vs. Jordan Recap
Your Green Level Gators (7-9) took on the Jordan Falcons (6-8) in the first game of the MLK Day Showcase. The Jordan Falcons came out with the 46-45 win in a game that was always within a few points
The scoring started off slow for the Gators due to pressing defense from Jordan, giving them a 6-0 lead. After a pair of free throws from Deana Prasad, the Gators finally took the lid off the basket. Audrey Ericksen found Claire Barber for a 3-pointer to cut the Jordan lead late in the quarter to just one point.
Gators started the second quarter strong forcing a jump ball and getting possession back before an and-one finish from Claire Barber who later made the free throw to tie the game. The second quarter ended with a score of 19-22 in favor of the Falcons after Jordan scored off of an inbound with 4 seconds left and then stole the inbound pass for a late Sydney Barker layup to put the Falcons up by 3.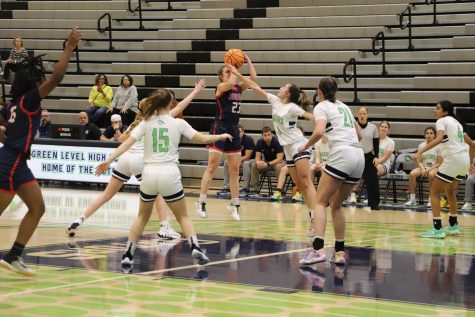 In less than a minute, Green Level tied the score with a Ryan Baker three, however, Jordan would come right back with a layup and a three to put them up five early in the second half. Ryan Baker started to catch fire as she hit another three to cut the lead once again. Deana Prasad followed up with a steal and fastbreak layup drawing the foul and hitting the free throw. to put Green Level up one. To end the quarter, a Green Level attack featuring a flurry of threes put the gators up 39-36 heading into the final quarter.
Sydney Barker dished to the corner for a Jordan three tying up the game early in the fourth. Coming out of a timeout she slashed to the rim getting an and-one layup and sinking the free throw to put the Falcons up 3 with 5 minutes left to go. As expected this game was a battle between Audrey Ericksen and Sydney Barker, and the fourth quarter proved to be just that. After Barker's three-point play, Ericksen responded with a layup of her own followed by a putback layup after a steal by Deana Prasad to give the Gators a one-point lead. Ericksen later scored a fast break layup to put Green Level up by 3 with 3 minutes to go. Barker finished a tough runner to close the Gator lead to just one. With under a minute left, Sydney Barker scored once again to put the Falcons ahead. On the next Green Level possession, after a timeout, they threw the inbound out of bounds giving possession back to Jordan. Jordan was able to successfully run out the clock giving them a 46-45 victory and moving them to a 7-8 record while knocking Green Level Down to a 7-10 record.
Your Gators are back in action tomorrow vs. Cary at home. Come out and support!