What is Lunar New Year?
Lunar New Year is a celebration of the arrival of spring and the beginning of the new year on the Chinese lunar calendar. It is celebrated in South Korea, Vietnam, a significant overseas population, and China, where it is the most important holiday. This year Lunar New Year falls on Sunday, January 22nd. This holiday is a time t honor the ancestors, shaare good luck, and wish for a prosperous new year ahead.
All of the celebrations last 16 days, but only the first 7 days are considered a public holiday. From January 14th-21st (8 days), preparations for the new year begin and go until New Year's Eve. From January 22nd-February 1st is the Spring Festival, during these days the Lunar New Year officially begins. Then from February 2nd-5th, the Lantern Festival occurs. Preparations for the festival begin on the 2nd, and the festival is held on the 5th. You can find a more detailed calendar here.
(A. Khare)
About 10 days before the New Year, families start cleaning their houses to remove any remaining bad luck, this tradition is called "sweeping of the grounds".  Usually New Year's Eve and New Year's Day are reserved for family. On these days family celebrations such as religious ceremonies honoring ancestors occur. Another New Year's Day tradition is that family members receive red envelopes containing small amounts of money called lai see. Throughout this holiday season fireworks and dances are common, and they all come to a head with the Lantern Festival, which is celebrated on the last day of New Year's celebrations. During the Lantern Festival colorful lanterns are lit and traditional foods are served.  Traditional foods eaten include, yuanxiao (sticky rice balls that symbolize family unity), fagao (prosperity cake), and yusheng (raw fish and vegetable salad).
The origin of this holiday dates back thousands of years, and the history is intertwined in legends. One legend is the legend of Nian. Nian was said to be a hideous monster that ate human flesh on New Year's Day. But, Nian feared the color red, loud noises, and fire. So, the people put up red paper decorations, lanterns were burned, and firecrackers were lit in order to scare Nian away.
This year will be the year of the rabbit. Each new Chinese Zodiac year begins during the Lunar New Year. There are 12 total zodiac animals and each year is represented by a different animal, that each has their own attributes. Each person's Chinese Zodiac sign is determined by their birth year. Many Chinese people believe that someone's horoscope, personality, and love compatibility are associated with their zodiac sign.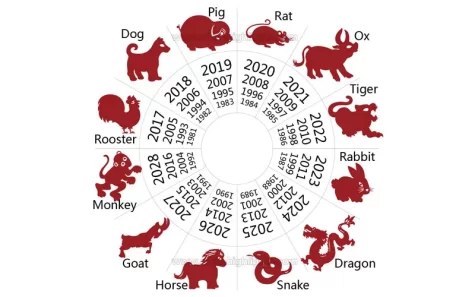 Freshman Samantha Chen says  "I celebrate by going to performances and events and my family eats traditional Taiwanese food!"
Happy Lunar New Year to all who will be celebrating!