Super Bowl 57 is Coming!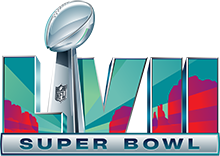 Super Bowl 57 is coming up on Sunday, February 12, 2023, and it will be one to remember. This Super Bowl has set the two best teams in the NFL against each other, which doesn't happen often. The Kansas City Chiefs and the Philadelphia Eagles will be going head-to-head to win the Lombardi Trophy, and it is a great matchup. The Chiefs and Eagles were the only teams to go 14-3 over the regular season and have two of the best quarterbacks in the league, but that isn't all. The Chiefs have six Pro Bowlers, and the Eagles have seven. Both teams have six players on the AP All-Pro teams. The games will be power-packed, and each team is sure to make headlines, regardless of the outcome of the game. There are also many other narratives, like brothers Travis Kelce, star tight end of the Chiefs, and Jason Kelce, star center of the Eagles, playing against each other, which led to this Super Bowl being nicknamed the Kelce Bowl. People are also pointing out that Andy Reid was part of both franchises, making it a little more interesting.
Both teams survived and dominated the 18-week regular season and the playoffs, and they have made it here to win the game. White Mahomes and Hurts will be talked about, there is also the matter of the great defenses. These teams both led the league in sacks, with the Eagles having a whopping 77 sacks and the Chiefs having a smaller but no less lethal number of 55. Both teams also have amazing offensive lines, with three Pro-Bowlers and two All-Pros on them. Kansas City was able to use their O-line and only allowed 26 sacks through the season, which is third-best in the NFL. The Eagles were less successful, with 44 sacks allowed, but they made up for that with their offense. The Eagles had an amazing team on offense to support dynamic quarterback Jalen Hurts. They have A.J. Brown, Devonta Smith at wide receiver, and a pretty good tight end, Dallas Goedert. Miles Sanders as running back rounded out this cast, and this made for an amazing team, especially for big plays. The Chiefs weren't any less. Dual-threat quarterback Patrick Mahomes had a lot of people to throw to, with Juju Smith-Schuster, Marquez Valdez-Scantling, Travis Kelce, and Jerick McKinnon, among others. Rookie running back Isiah Pacheco helps finish the offense, making for a powerful offensive force. While none of these offensive players are "stars" (except Travis Kelce), they work well together as a team, and they will need that teamwork against the Eagles.
To win against each other, these teams are going to have to make big plays, and both teams were pretty successful with big plays this year. Philadelphia had 12.5 yards per completion, while the Chiefs weren't far behind at 12.1 yards per completion. The Eagles also had 80 plays of 20+ yards this year, while Kansas City led this with 83 plays. Both teams were also near-perfect in third-down and red zone plays, with both teams ranking top-five respectively in both categories. However, this connects to a weakness of the Chiefs which is their defense inside their 20-yard-line, being ranked 31st out of 32 in this. Philadelphia is much better in this aspect, being ranked 12th. But Kansas City has improved their defense in the playoffs, and it remains to see how they can perform the best in the Super Bowl.
With these evenly-matched teams, the difference will come down to how they perform critical plays in the biggest moments, and if they will be able to execute to completion. For both teams, this was the dream that they were aspiring toward. Now it's here, and we can't wait.