Creative Writing Club's Book Drive
     Do you have any old books just sitting around your house, collecting dust? For all five days of this week (March 13-17), Green Level's Creative Writing Club will be hosting a book drive through the charity Reach out and Read. When you walk in the front doors of the school, on the wall to your left (across from the front staircase), there are two bins labeled "Book Drive – Drop Off Here". Any books up to a high-school reading level will be accepted and appreciated. Donations can simply be left in the bin anytime during school hours and will be collected at the end of the day.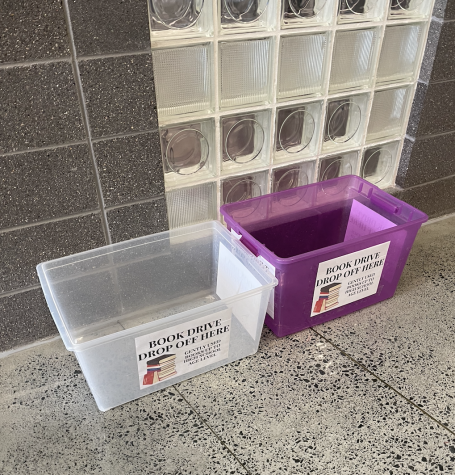 Creative Writing Club is a new addition to Green level this year. Its president and founder is none other than The Gator's Eye Managing Editor, Charlize Andrews. When asked to describe the purpose of her club, Andrews professed, "I founded the club with the goal of creating a creative and collaborative environment for members to improve their writing skills amongst students with the same passion." During each meeting, Charlize presents a simple creative-writing based activity.  Ms. Evans, a Green Level English/Creative Writing teacher and the Creative Writing Club staff advisor, claims "Creative Writing Club gives students a time during the day where they can have space to just write. They can work on personal pieces, or they can work on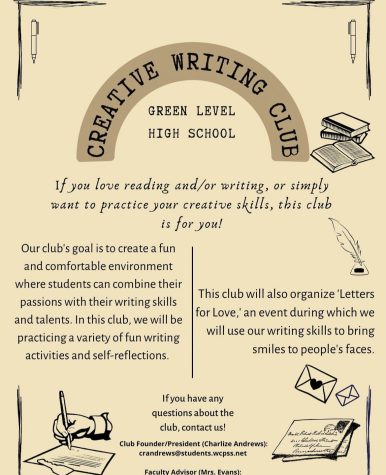 the prompt that Charlize has prepared for them." Creative Writing club focuses on a mix of writing styles, such as poetry, short-stories, and more. 
     The club serves as a space to expand upon writing talent amongst the feedback and aid of peers. Oftentimes, the club meetings will consist of 'free write,' where members are free to work on whatever piece they desire. To once again quote Ms. Evans, "They (members) can work individually, or they can work with other students to give and receive feedback. It's a great place for students to be able to write in a relaxed, no-pressure atmosphere." Charlize always presents an opportunity for members to share their work with the class in order to gain constructive insight on changes and continuations to apply to your writing. She also has a link to submit work that can be featured on the club's instagram, 'glhs.creativewritingclub'.
     In addition, Charlize presents members with opportunities to showcase their writing in more professional settings. She gives links to websites and online writing competitions, provides sources of websites that give writing advice/prompts, and is planning on collaborating more with Green Level's Literacy Magazine. After each meeting Charlize always posts her presentation on her google classroom, which gives students the ability to continuously reference these resources outside of club meetings. Having work published in acclaimed sources provides an opportunity to showcase your talent, share work you take pride in, build connections for future careers, and have something solid for your resume. 
     It is important to note that Creative Writing Club is not limited solely to those with writing experience, but can be utilized as an atmosphere to explore your interests. Ye Lie, a senior track star with limited writing experience, has attended multiple meetings, claiming "Charlize's meetings are full of positivity and inclusivity." Andrews builds her meetings and activities around personalization, meaning she typically presents a basic prompt and encourages creative and differing interpretations of how to execute it. When prompted about why someone should consider attending a club meeting, Ms. Evans responded, "For students who love writing, it's beneficial to have a designated time where you're just writing for yourself – not for a grade or a class, but just because you have stories to tell." If you have a story to tell, consider coming to a meeting of Creative Writing Club, which is hosted every b-week Monday during connectivity in Ms. Evan's room (3127).