Spring Track & Field Season Is Underway
The Green Level Track & Field team has started its 2023 spring season.
They had their first meet on Wednesday, March 8th, against Green Hope and Apex Friendship, hosted by the Falcons. 
The Gators had top finishers in various events, in both the girls and boys divisions.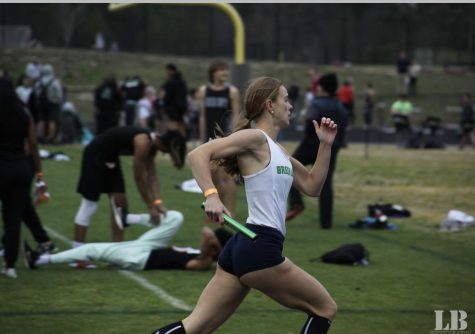 In the 800 m run, Eliza Greengrass finished in 1st place, Samantha Petersen finished in 3rd, and Rathi Seenivasan finished in 4th. In the 1600 m run, Delaney Coleman finished in 1st place, and Sadie Wortman finished in 3rd. The only competitor in hurdles was Chorley Truitt, who finished 2nd in the 100 m and 3rd in the 300 m. In the field events, Alexa Nestor finished in 1st place for high jump, followed by Leah Smith finishing in 3rd, and Deana Prasad finishing in 4th. In triple jump, Prasad finished in 2nd and several Gators followed suit, securing the 4th, 5th, 6th, and 7th place spots. In Discus, Chorley Truitt finished in 2nd.
For the boys, the top finishers primarily made up the running events. In the 800 m run, Alex Fernandez finished in 1st, followed by Jake Lominack finishing in 2nd, and Rushil Saggi finishing in 3rd. In the 1600 m run, Evan Hall finished in 1st, and in the 3200 m, Alex Simpson finished in 1st. In the 300 m hurdles, Chayse Jones finished in 2nd, Adam McKay finished in 3rd, and Jeremiah Olukma finished in 4th.
More stats can be found at NC MileSplit. 
Since then, they have competed in 3 meets. They have their next one on March 24th, at the home of the Jaguars, for the Athens Drive Friday Night Lights.
We got the chance to interview Alex Fernandez to get his perspective on the start of the spring season. 
How do you feel about your individual performance?
I would say I've been doing pretty well and improving consistently.
How do you think the team has been performing?
I think the team has been improving, both boys and girls, we got some new freshmen last year who have really stepped up.
What are you most looking forward to this season?
I'm most looking forward to the competitive races, and hopefully taking our team to states.