$1 Million Soccer Tournament Coming To Cary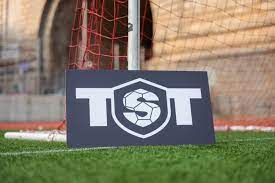 This June a 7v7 soccer tournament will be coming to Cary. The TST tournament is a 32-team world cup style tournament with a prize pool of $1 million. The event will run from Thursday, June 1st to Sunday, June 4th. The tournament will be held at Wakemed Soccer Park, just a 20 minute drive from Green Level High School. 
One exciting piece of news is that Green Level High School is set to be the official training site of one of the teams, Conrad & Beasley United. The team is led by USMNT legends DaMarcus Beasley and Jimmy Conrad. They will be training at the stadium on May 29th, 30th, and 31st from 7-9 pm and members of the Green Level Soccer teams will be invited to come watch.
Some other notable teams include include:
Wrexham AFC: Stars of Welcome to Wrexham including Ryan Reynolds, Rob McElhenney and player-coach David Jones
West Ham: This team from the Premier league features legends like Marlon Harewood, Carlton Cole and Matt Jarvis.
US Women: Captained by USWNT legends Heather O'Reilly, Kristine Lily, Lori Lindsey and Lori Chalupny.
Team Dempsey: This team is managed by Clint Dempsey and includes Jermaine Jones (69 USMNT caps) on the roster.
Charlotte FC: The first MLS club to enter the tournament, if they win they will donate the prize money to Anton Walkes' family.
NCFC legends: This team will have a home field advantage and include legends from NCFC, such as Carolina RailHawks and NCFC Assistant Coach Dewan Bader, and favorites like Austin da Luz, Nazmi Albadawi and Nic Platter.
Borussia Dortmund: The 8-time Bundesliga Champions are coming to Wakemed and will be bringing club legends, coaches, and high-profile personalities. If they win, they will donate the prize money to "Street Soccer USA, a non-profit organization that fights poverty and strengthens communities through soccer,  as part of Dortmund's commitment to soccer's growth in the United States amongst the underprivileged."
Overall the tournament features many star-studded teams, making the tournament a fun one to watch.
Another cool aspect of the tournament is that each game will end on a goal. After 2, 20 minute halves, teams will play an untimed "final frame". One of the teams will need to reach a target score. This score is calculated by adding 1 to the leading team's score. WHichever team reaches this score first will win the game. 
Example: If team A is leading Team B 5 to 3, the target score would be 5+1=6. So Team A would need to score one goal to win, and Team B would need 3 goals to win.
In target score time, every 5 minutes, if there still is not a winner, one player from each team will be taken out. This will turn the game in 6v6, and after another 5 minutes it will be 5v5, and so on, all the way down to 1v1.
Here are some of the rules for the tournament:
Teams may have 18 players on their roster, and 7 on the field, including the goalkeeper

There are unlimited subs, and substitutions can be made at any time on the fly during the match

Each game will have 2, 20 minutes halves, and 2 minute halftime break, followed by the unlimited time target score period

The clock will only stop for official's timeouts and injuries

The max size of the field is 65 yards (length) by 45 yards (width)

The goal is 6.5 feet tall and 18.5 feet wide

Throw-ins will be replaced by indirect free kicks where the ball has crossed the line to go out of bounds

There are no offsides
The tournament follows a world-cup style format:
The tournament will start with 32 teams

First, the group stage will occur, with 8 groups of 4 teams

Then, the top 2 teams from each group will advance to a single elimination knockout bracket, beginning with the round of 16.

The tournament will end with the $1 million championship on Sunday, June 4th
Schedule: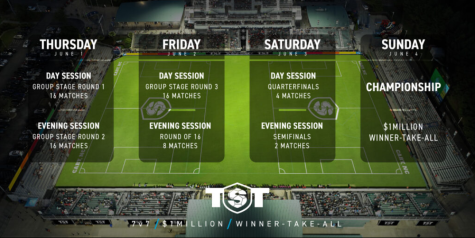 Here is the schedule that is posted on the TST website.
This is another schedule shared on their website.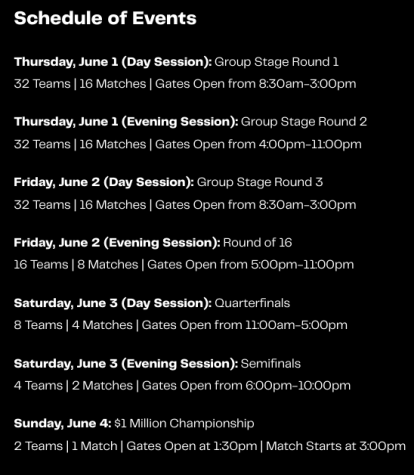 There are many different options for tickets, but the main one that is not sold out yet is the Single Session Pass.
Single Session Pass ($35): "The Stadium Pass grants access to all match fields, including a general admission seat in the main stadium. Pass holders can enjoy games on Fields 1-6 (see map below), as well as the full soccer festival experience." (Stadium passes are sold out for Friday evening and Saturday Day, but you can join the waitlist to be the first to know when tickets become available
Some other things to note include:
Seating is general admission, so seats are first come first serve

Handicap seating is available but reach out to

[email protected]

to discuss all options before attending the game

Children over the age of 2 will require a ticket

Only clear bags are allowed

More FAQs can be found at the bottom of

this

page
If you are looking to watch some exciting soccer games with big name players, TST is the tournament for you. Come out to Wakemed Soccer Park June 1st-June 4th to support your favorite teams!