Carolina Hurricanes Playoffs Recap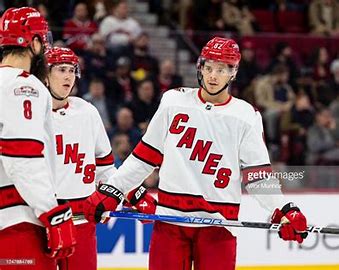 On May 24th, the Carolina Hurricanes were swept by the Florida Panthers in the Eastern conference finals, effectively ending their spectacular season. Even though the Panthers were clearly the better team of the two, the Canes made every game close and had you on the edge of your seat being that every game was a one score game. Up until this point in the playoffs though, the canes had had their way with the teams that they faced with taking care of the New York Islanders in 6 games and taking care of the New Jersey Devils in 5 games as well.
The first round for the Canes started off with a bang with a 2-1 win at home and then winning game 2 in OT 4-3. Then they traveled to New York while splitting games there losing 5-1 in game 3 and bouncing back with a 5-2 in game 4. Then, after losing game 5 at home 3-2, they ended things in game 6 when they won 2-1 in overtime with the help of Paul Stastny.
The second round for the Canes was a very interesting series with them starting off the series with a 5-1 win and a 6-1 win at home. Then they traveled to New Jersey and lost 8-4. That loss didn't seem to hurt the team morale too much as they won game 4 6-1 and moved to a 3-1 series lead and headed back home to win game 5 in overtime 3-2 and advance to the Eastern Conference Finals.
Game One of the ECF couldn't have been any crazier with the Panthers beating the Canes in the 4th Overtime 3-2. Game 2 also went to overtime but the Panthers closed it out very fast in the 1st overtime and won 2-1 to go up 2-0 in the series. Then the Canes traveled down to Florida and lost both games 3 and 4 1-0 and 4-3 eliminating them from their playoff run. In game 4, the Canes tied it up with around 3 minutes left in the game 3-3 but the Panthers then scored with 4 seconds left in the game on a Powerplay off of the stick of Matthew Tkachuk, sending the Panthers to the Stanley Cup Finals.
The Canes were the 2nd best team in the NHL this year based on record and to have them lose this way will sting for them a bit but still a wonderful season nonetheless. Good luck to the Panthers as they will most likely face the Vegas Golden Knights in the Stanley Cup Finals who are 1 game away from sweeping the Dallas Stars.