Green Level Hockey Recap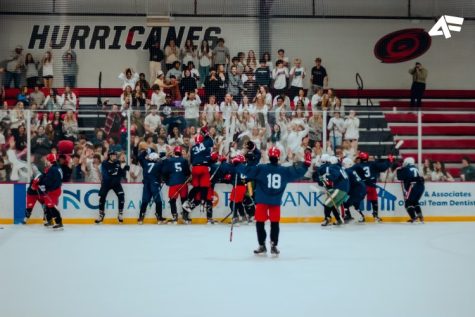 Last Friday Green Level Hockey Club took on Apex Highschool in one of the best games of the season.
The Gators struck first early in the first period with a goal from Junior Ryan Bernard to get the crowd going. Apex later tied it up a few minutes after. After the first period and a half the score was 3-2 in favor of Apex.
The Cougars quickly began to run away with the game, gathering a 6-2 going into the third period. Influenced by the best student section in the 919, the Goonies, Green Level began their comeback to tie the game at 6-6 late in the third period.
The game ended up going to a shootout where Junior Josh Smith scored the game-winning goal and fellow Junior Carter Zamora made the game-winning save to give Green Level the W with a score of 7-6.
The Green Level Hockey Club will take the ice one more time this Friday, June 2 in the most anticipated and electric game of the season against Green Hope.
Show out Goonies!