What's There To Know About Auditions for the Musical? Mr. Olsen Has Some Answers.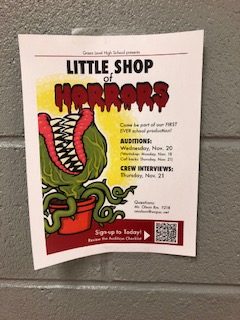 A. Rudolph, Student Life Section Editor
November 19, 2019
Many Green Level students are considering auditioning for the first ever musical at our school, Little Shop of Horrors. However, many are worrying about how they can make their audition the best it can be. To answer some questions, The Gator's Eye decided to ask Mr. Olson, the Chorus teacher of GLHS and one of the teachers helping with the musical/auditions, for more details. 
"For the audition, it's just a really short snippet of a song that will come out next week so I'll post it on the form next week. But it's just a really short clip from that song, just looking to hear your voice a little bit. That snippet is basically the whole audition." Mr. Olson insured us that the audition would be simple. But for students who want to practice and perfect their audition, there will be a workshop on November 18. Olson said, "I'll teach them everything they need to know, including the song, so they don't walk in blind to the audition. If anyone was interested in coming on the 18th but couldn't make it I could literally teach it to them in 5 minutes, it's not that hard of a song at all." 
The best way to make a good audition is practice. Olson recommended that students auditioning should listen to the soundtrack, especially the audition song "Suddenly Seymour", and watch any version of the movie. "Watching any version of the show could give you a hint on what characters you might be interested in."
Some students are worried that people taking the drama and chorus classes would have priority above other students auditioning. Mr. Olson assured me that there was no preference in different students depending on whether they took his classes. "I'll be taking anyone who has the best audition. It's not an expectation of mine to have students that are in my classes. I believe that there's a lot of talented kids out there that I don't teach."
Olson told me that he was most excited about the production because of the new students that he would meet through the auditions. "I think that it takes such a community of people that it takes to run a show, and I'm really excited to see our community come together and see all those parts work together between the the staff directing, backstage crew, and the actors on stage." 
Lastly, Mr. Olson said that students had no need to stress about the audition. "A lot of people are stressed, but it's really not that much work at all. People who aren't as confident of singers can come on out because it's not that difficult of a song." Anyone can try out for the musical, whether you have experience in singing and acting or not! See you at auditions!