New Teacher Profile: Mr. Kesterson
Hey Gators! Let's welcome our new English teacher, Mr. Kesterson, to Green Level High School! Mr. Kesterson has kindly shared some fun and interesting facts about himself as an introduction to our community. 
This is Mr. Kesterson's 20th year of teaching, meaning he has a lot of experience in the English field. He decided to become an English teacher because he wanted to enforce "Literature" in students. He shares, "But later, I realized that was really kind of selfish. In reality, I was trying to impose what I wanted to do without any input from students." Now, Mr. Kesterson is passionate about building relationships with students and receiving feedback. He believes that students should be, "focusing on what they want rather than some monolithic, Kesterson ideal of what students 'should' learn." His student's freedom is important to him. He says, "I want them to be able to successfully navigate the perils of our world and be strong communicators – not just with me, but with their peers, and ultimately, the world at large."
Mr. Kesterson was actually planning to teach the Leadership in Media (Leadership in Media writes for the Gator's Eye) course at Green Level this semester but due to Covid-19, he is now an advisor. A fun fact about him is that he actually worked with Mrs. Summers, our school principal for 5+ years before he started working here. 
As for hobbies, Mr. Kesterson really loves listening to all kinds of music. He shares, "I was the music director for the student radio station at Clemson University where I was exposed to limitless categories of music." Clearly, he is no ordinary English teacher. Mr. Kesterson is currently into rap, EDM, indie, jazz, lo-fi (study beats), and classical music although he has just as much of an interest in podcasts.
Although his love for music is strong, he also has another big passion. Mr. Kesterson has two daughters ages 8 and 11, and a son who is turning 3. He says, "They keep me busy for the most part. So currently, my hobby is navigating their complex worlds while trying to stay safe in our Covid life." Although his life is filled with many jobs, he doesn't want his students to forget that, "My door, or rather my Google Meet, is always open. Stop by, I can't wait to talk." 
Mr. Kesterson shares, "I am so excited to be here. Never in my [20 year] professional career have I felt that I could just be myself- my actual, imperfect, idealistic, compassionate self. I am so proud to be a Gator."
About the Writer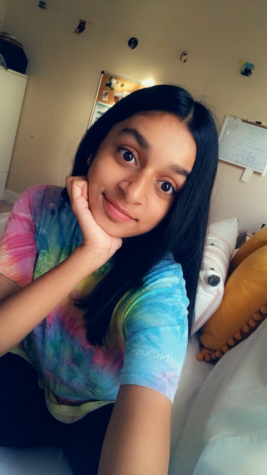 D. Pasupu, Staff Writer
Dhyana is a freshman who is excited to be representing The Gator's Eye this year. In her free time, she likes to play guitar, sing, and help the community....