Presidential Debate Recap & The Aftermath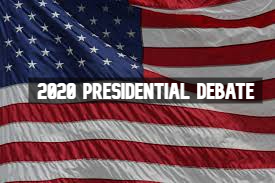 National disgrace, chaotic disaster, blown opportunity, and uncivil are only a few words that were used to describe the 2020 presidential debate. On Sept. 29, the first presidential debate took place with Donald Trump and Joe Biden as the candidates and Chis Wallace as the moderator.
The presidential debate's purpose is for the nominees to persuade voters to vote for either the Democratic or Republican candidate. This debate is considered to be important and helpful in showing citizens their potential next president's promises and plans for the future. The 2020 debate was intended to be a game-changer – a hope to better America's situation and solve pressing issues.
The format of the debate was simple: "Six 15-minute segments selected by the moderator and announced in advance. The moderator will open each segment with a question, after which each candidate will have two minutes to respond. Candidates will then have an opportunity to respond to each other." These rules were set for both the candidates to express their views on national and current issues. However, these straightforward rules were completely broken by the president. During almost all segments meant for candidate Joe Biden to answer, President Trump interrupted him. Moreover, on various openings, both candidates pinned inaccurate claims on each other. 
The behaviors of the candidates who are meant to lead our country were evidently immature. At one point, Trump started to personally attack Biden's son, Hunter Biden, regarding his struggle with drugs and alcohol use. In another instance, Biden lost his composure and said, "Will you shut up, man?" 
The 2020 presidential debate was chaotic, but a few days after, the situation became even worse. News broke that, "President Trump revealed early Friday morning that he and the first lady, Melania Trump, had tested positive for the coronavirus, throwing the nation's leadership into uncertainty and escalating the crisis posed by a pandemic…" This news shocked Americans, and to many, it was an eye-opener to the dangers of COVID-19. Additionally, Trump has constantly "denied the seriousness of the viral pandemic—claiming it would go away on its own". This includes the President mocking the use of masks and his response, "It is what it is," during an interview about rising coronavirus death tolls.
Several sources state that this incident and his lenient stance on the pandemic might damage President Trump's reelection. However, this could also cause him to gain sympathetic votes and support. Nonetheless, the Democratic party will also face challenges on how to respond and tensions continue to grow on both sides.