Reviewed: Pity Party By Curtis Waters
Curtis Waters is an up-and-coming Nepalese artist based right here in Cary, North Carolina. With his debut single "Stunnin'" blowing up on Tik Tok, he was immediately launched into fame, boasting an impressive 8 million monthly listeners on Spotify. His previous singles drew strong inspiration from other indie artists such as Still Woozy and barely manages to sound different. With this being his first debut album, I am expecting him to separate himself as an artist and make more original content. I will be going track by tack and rating this album on a one-to-ten scale based on the performance, lyricism, and artistic arrangement.
Track 1: "Shoe Laces" With the large incorporation of high flutes and high-hats this song sounded too similar to Rex Orange County. I would consider this a strong beginning to an album and overall a great intro. My main criticism is that it almost sounds too similar to his peers in the industry.
Track 2: "Freckles" This featured watery strums  on the guitar and high amounts of synth. This track reminded me of artists Khalid or Bryce Vine. Overall, this was an un-impressive track made for parties or late-night drives. However, it was too similar to Curtis' peers once again.
Track 3: "The feelings tend to stay the same" Yet another below-average track. It wasn't particularly good or bad, rather a song you put on in the background while doing tasks. Thus far the whole album has had this sort of feel. It is not looking too good for Curtis.
Track 4: "Better" This song was very over auto-tuned in my opinion. From what I gather Curtis has a good voice, however he didn't properly deliver that on this track. The high 808 and bassline made it an unpleasant listening experience. 
Track 5: "Mistakes (feat. Renzo Suburbn) This song reminded me of 100 Gecs combined with BORNS. The basic sound and over-bearing bass made another bad song, However, it is admirable how he sounds unique. Another criticism of this record that I have is that Curtis continues to use his artist tag (an artist tag is the signature sound bite that is common in rap and production. This is usually said before a feature verse or beat. For example, Ronny J's producer tag is, "OMG Ronny" or "Ronny J please turn me up") as if it isn't his own album and he was just a feature. This wears down on the listener experience. 
Track 6: "6pills" This is a sorry excuse for a song. He continues to rhyme the same word, "normal" with, " normal." Usually this wouldn't be a problem however, the song isn't catchy either. Curtis continues to overdo the Auto-Tune and under do the drums making a very bad song. Curtis still has a lot to learn.
Track 7: "Lobby Boy (feat. Harm Franklin) I have mixed feelings about the song, it's heavy bass hits and slower Cadence definitely produces a different sound we've heard thus far on the record. It also is slightly sadder than the rest of it which is a much needed change of pace. However, I think he over does the auto-tune once again. In general it is a good song.
Track 8: "Toxic" As seen with his last track this, was another slow song incorporating acoustic guitar strings. This is what I expect from an indie artist and it was in general a good song. My main criticism is that he yet again relies on Auto-Tune as a crutch when I do believe he has a good voice.
Track 9: "Pity Party" One respectable part of this song is the unique beat. It incorporates low trumpet tones and consistent sent hits. However he uses too much autotune once again which makes him sound like another clone of a pre-existing artist. 
Track 10: "Subaru" The Way Curtis carried the hook in this song reminded me of early Juice WRLD's work. The difference between the two of them is that Juice WRLD had strong verses and used his natural voice, while Curtis continues to overuse autotune.
Track 11: "System" It is unfortunate that it took this long into the record for Curtis to have an above average song. It is a perfect party/late night driving song. He also incorporates a slightly faster flow that is technically impressive.
Track 12: "Stunnin' (feat. Harm Franklin) Being the lead song for this record, it is expected that it would be among the best tracks. However it is a disappointing artistic choice on Curtis's behalf that he would make the lead single the outro. That being said it is a great song nonetheless.
Overall, this was a very disappointing debut record. Maybe my expectations were too high but I think he did not execute well on sounding unique in any way. I'd give this record a 2/10 where its only redeeming qualities were the cover single, "Stunnin'" and "System" Curtis seems to have a large amount of talent but he overuses auto tune which greatly hurts the listener experience. But what do you guys think? Did I over rate it? Underrate it? Let me know either way… [email protected]
About the Contributor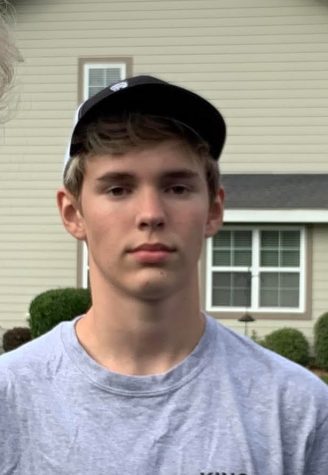 M. Honaker, Staff Writer
Matthew is a freshmen at Green Level born and raised in Cary, NC. He enjoys listening to music, swimming, and hanging out with friends. He follows all...