Green Level's New Mural is a Perfect Look Into Our Lives
October 26, 2020
Last January, the art department began working on a school mural. After months of sketching and planning, their concept has become a reality. With the help of muralist Sean Kernick and insights from the student body, Green Level's new mural is complete. 
The mural, covering the main first-floor hallway, works as a snapshot into the lives of students right now.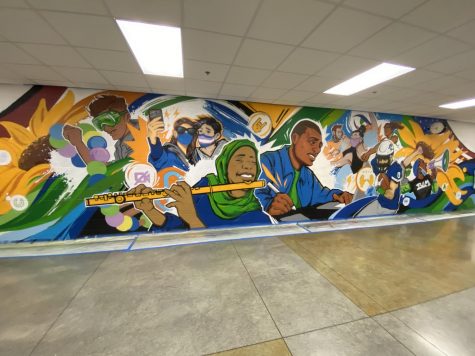 "The idea was that we recorded history before the written word, from the wall art left behind…we had snapshots of what was going on at the time. With the kids, we had zoom calls and discussions as to what would be representational of their experiences right now," Sean explains. 
After a few initial ideas, Mr. Mapp and Sean Kernick came up with their perfect project. "It was really Mrs. Summers who made us realize we needed something like a hieroglyphic, something that captures the time we're living through right now. Because of George Floyd, because of COVID… so we took two different ideas there and put them together," Mr. Mapp explains.
The longer you look at the wall, the more you see–even the smallest details, such as the 'camera off' button on Google Meet, make their way onto the spray paint. Since January, the world has changed in countless ways. The mural is our school's personal cave painting to show how our students are living in this new normal.
Creating the mural was a very student-led process. From input on the design to the actual spray painting, Sean and Mr. Mapp committed to giving our student body a voice in the art. Students gave advice and shared ideas they wanted to see represented, and Sean took every piece of insight that he could and adjusted accordingly. The final mural will be one puzzle piece of an overarching project throughout the schools in the area. Although each mural will be as unique as the students in their schools, they'll all flow when combined digitally. Southeast Raleigh High School has already begun their fundraising for the next installment, so when the painting wraps up here they'll be next on the list. 
Sean has been experimenting with spray paint since he was in high school. Some of his more recent work resides at the NC State campus from their sports season, on Sheetz trucks decked out with vibrant designs, and inside small businesses in the NC area. His philosophy is to leave a place better than it was when you came, and he does this through his art.
"This is going to sound pandering, but I think this is my favorite [mural.] And I really mean it, because it's one thing to get good at a skill… but it's a whole other thing to take what you learned and take on the process to pass it on," he says.
Mr. Mapp couldn't have asked for a better partner in this project. "Sean's been such a good person to work with! There are things that he's constantly taking from us… and it's his work, but he's been very open," he explains. "I think we're on the same page about this being the kid's artwork, representing their lives."
Students have been coming in to help paint. Eleventh grader Morgan Fazio paused her work to talk with me about the mural. She's very happy with what the project's turned into. "I love it. I love that Sean has taken all of our consideration and our student feedback's been used. There are so many people represented, and it really is a celebration of diversity. I can't wait to see it when it's done!"
Morgan pointed out a focal point of the mural–the sheer amount of representation in the art. A hijabi student plays the flute front and center, and an African American student works on a computer next to her. "You'll notice up there we have a student wearing a transgender mask. We have somebody at a Black Lives Matter protest. You have people with different pigmentation and skin color from different parts of the world… and we have their interests! We have music, we have art, we have academics… and these little symbols that our kids are working on will add even another element," Mr. Mapp adds on. "Even though we're all doing different things, we have this unity from being here at Green Level High School." 
That's the overarching theme of the painting–unity. With all the chaos in the world around us, all the different interests and backgrounds of our people, and everything that's changed this year, we're all still at Green Level. This mural will tell our story and our experiences to the future students and staff at our school. It's a beautiful and bright look into our unique lives, one that'll be on display for years to come. As the work wraps up, Mr. Mapp and Sean Kernick feel pride at the success of their hard work. All their efforts paid off with this beautiful piece of art.