Streaming Spotlight: Sherlock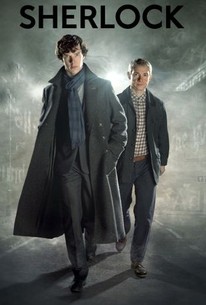 Airing from 2010 to 2017, this Streaming Spotlight covers a series that didn't originate in the United States. Sherlock is a British TV series based heavily upon Sir Arthur Conan Doyle's Sherlock Holmes detective stories. Written by Mark Gatiss, Steven Moffat, and Stephen Thompson, this crime show is on Netflix and portrays an objectively creative spin on Doyle's classic works. 
Over three movie-length episodes per season, this series follows the friendship of a master detective Sherlock Holmes and young veteran John Watson as they solve various (and often mysterious) crimes throughout London. 
Perhaps the biggest thing that differs from the books to the show, (as well as what makes this series so distinguishable) is that this adaptation takes place in modern times – 21st century London. For example, Dr. Watson is a retired soldier from the Afghan War, and basic technology such as simple smartphones are available. However, many critics say that instead of detracting from the original works done by Doyle, this adds a whole new level of relating understanding to the show, helping the audience understand and predict more of its content. 
Starring Benedict Cumberbatch (The Hobbit, Doctor Strange) and Martin Freeman (The Hobbit, Black Panther) as the iconic crime-solving duo, the first three seasons of this BBC original received overwhelming positive feedback from audiences and critics alike, all scoring above 90% on Rotten Tomatoes.
According to critics, Sherlock does a fantastic job of remaining faithful to Doyle's works by retaining the element of self-investigation, allowing the audience to attempt to solve the mystery alongside the on-screen Holmes and Watson. Many people believe it also gives great insight into the fast-moving mind of Sherlock with the help of on-screen visuals and soundtrack, as well as not relying too heavily upon the readily available technology in the 21st century.
Overall, you should watch this show as a unique twist on a classic book series as well as a fantastic source of critical thinking, jaw-dropping reveals, and easy entertainment.