Artist Spotlight: Niyathi Sudhakar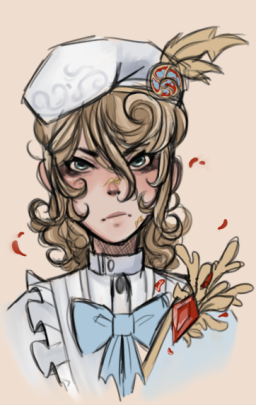 D. Khan, Arts Section Editor
December 7, 2020
Welcome to another artist feature! This week's spotlight student is Niyathi Sudhakar, a mixed media artist. Niyathi is a sophomore at Green Level. Some of her hobbies besides art include sewing, making cosplays for characters she loves, and playing video games. These characters and games are big sources of inspiration to her. "A lot of my art is fanart from games and shows that I really enjoy," she explains. Both her fanart and original concepts are beautifully done, and her unique style sets her apart from other artists we've featured. 
Niyathi has been making art for as long as she can remember, but she started really honing her skills in middle school. "It's been a steady climb ever since," she says. "Even though I'm nowhere near perfect yet, the progress I've made is pretty encouraging if I do say so myself!" Her growth as an artist is inspiring and exciting. Now, her stylized art style looks straight out of a storybook or animated show! 
Niyathi doesn't have a huge preference for mediums–she tends to use whatever she can get her hands on, or whatever her mood points to. "I think my favorites right now would be digital art and gouache painting," she says. Her art style is similar in both–it's loose, sketchy lines, soft coloring and shading, and expressive facial expressions are simple and cartoon-like, just the way she likes it. She's proof that the best artists aren't necessarily the most hyper-realistic.
Niyathi shares her biggest piece of advice to other artists. "Something that I wish someone would've told me when I started out is that there is no right or wrong way to do art," she says. "Don't listen to other people telling you what to do and what not to do! That just defeats the whole point, in my opinion." Her positive outlook and love for art only add to her skills and abilities as an artist!
Thank you to Niyathi Sudhakar for her interview! If you would like to recommend yourself or another student for our artist spotlights, please email [email protected]