A Monolith in Fayetteville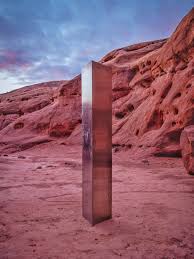 V. Sathish, News Section Co-Editor
December 18, 2020
We have been hearing news about monoliths popping up around the US and around the world. What is a monolith?  As per Merriam Webster, it is "a single great stone often in the form of an obelisk or column". Now let's look at the sightings.
According to CNN, on November 18th, officers from Utah's Department of Public Safety stumbled upon a mysterious monolith in the middle of rural Utah, while they were flying in a helicopter trying to count bighorn sheep for the Division of Wildlife Resources. It was a shiny silver metal that was about 10 to 12 feet high.  
How and when it got here is still a mystery and different people have different opinions.  According to Google Earth, it seems to have been there since at least 2015. Ross Bernards, a photographer from Colorado, went to take pictures of the monolith on November 27 and observed 4 people removing the structure. 
On November 28th, the second monolith was found in Piatra Neamt, Romania close to the Petrodava Dacian Fortress. The structure was about 13 feet tall and was facing Mount Ceahlau, which is locally known as the Holy Mountain. The Holy Mountain is considered to be one of the seven wonders in the country. This disappeared silently on December 1st, the same way it appeared.    
The third monolith was found on December 2nd atop Pine Mountain in Atascadero, California. This was 10 feet tall and 18 inches wide. On December 3rd, this was toppled by a group of young men and replaced by a wooden cross.  
According to WRAL, the same day when the California monolith was removed, a 3-foot tall, three-sided monolith appeared on a flower bed on Hay Street in downtown Fayetteville, North Carolina.  Neither the community nor the city has any idea how it turned up there. One of the locals Angela Malavé, owner of downtown's The Coffee Cup said, "When I came in to open the shop, the shiny, tall structure in the flowerbed caught the light and surprised me. I thought, is it public art or holiday décor?"
"Pretty much every week, I see a new piece of art. I was wondering if it was a new piece of art or a Christmas decoration." Mrs. Malavé is not alone, the monoliths have us all intrigued, and we are excited to have one locally. 
One of the reasons this has intrigued the public is that it brings back memories of Stanley Kubrick's classic "2001: A Space Odyssey.", in which monoliths appeared at crucial moments of the movie to assist apes and eventually humans. And to add to the excitement, the ending of the movie is open to interpretation. 
So far none of the monolith's origins are known, except the Utah one, which some people speculate could have been placed by fellow artists to pay respects to John McCracken. While it is amusing these monoliths are popping up, some of the local officials are not thrilled and even consider them 'illegal' placements because some of them have been placed on government-owned land, obviously without approval.
In these trying times, the monoliths have helped distract the public's attention from the pandemic to art, and we are thankful for these artists that have tried to brighten our 2020. Keep looking to see if new monoliths pop up!