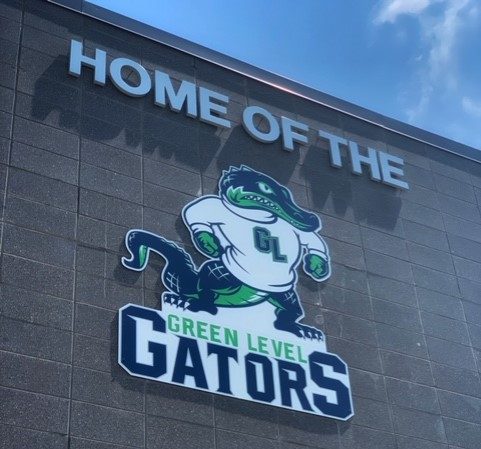 What Does Two Weeks of In-Person Look like at Green Level?
March 3, 2021
The past two weeks have been a change for many students who have opted for in-person school. The students are divided into three cohorts or groups. The groups rotate tri-weekly, B1, C2, A3. Though school looks and feels different. For some it feels good to have at least the appearance of normalcy. While much has been discussed about the return to in person school, all of it has been hypothetical, until now. Here is a first person account of the first week back in the building and brief interview with Mrs. Summers about the second week back in the building.
Week One, Day One
On Wednesday, February 17, Green Level welcomed students back to school for the first time since Spring 2020. Typically, the start to a new school year involves some short-lived celebrations that lead to the start of a new routine. Because this was my first day of high school in school. I had no idea what to expect.
Everything was different. Carpool crept to a stop not to let students out rather for temperature checks and a barrage of COVID-19 questions. This was to ensure everyone's safety. Once in the building, it was nothing like I imagined- the Green Level Gators logos were everywhere but the halls lacked the laughter and fun of walking to class with friends. Everyone was masked and always 6 feet apart. 
At a table in the dead center of the main hallway, students asked question after question about what to do and where to go. After standing in line for what seemed like forever,  I was directed on where to go. Students moved every different direction alongside teachers and administrators- all preparing for the first in-person classes in 11 months, it was a bit overwhelming. 
BEEEEEEEEP. 
When the bell rang and for the first time, I was sitting in a classroom, not at home,  to hear that bell ring.  Few people were in the classroom, far apart with the desks still smelling of disinfectants. Life for the next hour and a half seemed normal, with the exception of masks, and, oh, that most of the class was watching from home. The live session went on as usual, then the non-live session began. This is the time when I would go downstairs to get something to drink, maybe grab a bite to eat. This time there was none of that. I went straight to work. It was great- no distractions. By the end of the period I had no homework because I was focused enough throughout the non-live period that I could get my work done. That was it. My first first period of my first day in high school was done.
Then class change, my first class change. Healthful Living was over and I was on my way to Leadership in Media. In a normal setting it would have been a nightmare, with thousands of students swarming the halls. But now it was bare, and eerily quiet. I walked up the stairs and around the corner carefully looking at the numbers on every door. Teachers helping students find classrooms on every floor in every direction. Mr. Kesterson unlocks the door and we both walk in.    
Resources everywhere. In health class at least I had one other person but today I was alone, just the teacher and myself. I was hoping that my last two periods of the day would have more people I could talk to. But at the same time, this had its benefits. I got to write this exclusive article that quite literally no one else could write. I got to take a tour around the school, seeing the library common areas like the cafeteria gym and entrance, and then we went into the front office. My teacher looks at me and says "Are you ready to interview Mrs. Summers?" Of course I said sure but at the same time all I was thinking was 'first day back and I am interviewing the principal and the assistant principal.' I asked them both a series of questions about COVID and how they felt that the return of students to the building was going. 
I asked Mrs. Summers how she felt school was going so far, "I feel like everything is going very well, and that both staff and students are following all the rules and protocols." 
Mr. Carrington followed up with an agreement and he also thought that everything was going to go well throughout the day. Everyone seemed to feel safe because as Mrs. Summers stated everyone seemed to be following the rules. But at the same time Mrs. Summers was a little bit worried about lunch because she did not know how it was going to go. (Little secret it went very well.) 
The cafeteria crew collectively said, "We are ready!" They also stated that felt safe and that everyone was going to be safe. All of them felt very prepared and ready to go. Social Studies teacher Ms. Mack said, "having students back in the classroom was amazing because like many people she gets her energy from being around others. So, when we are in school we have the opportunity to do so."
The bell had rung, and it was lunch time. The one thing everyone seemed to be a little worried about. We were going to have to remove our masks for the first extended period of time during the day. But it turned out that we really did not have much to worry about. Everyone was 6 feet apart with labeled seats that you could sit on. Along with the fact that as soon as you were done eating your mask went directly back on. The lunch line seemed to move smoothly with everyone getting their lunch with plenty of time to eat. I was lucky enough to see someone that I knew and we sat next to each other and we were able to talk about how our days were going. Lunch went by extremely quickly, and before I knew it, teachers were directing kids on what to do next. One by one the rows students got up and threw their trash away. Masks back on, backpacks back on, and off to the next class. 
Third period. I had officially made it over half way through my first day of high school in the building. However that did not make it any easier to find my third classroom. Looking all over the third floor and of course the last corner I checked was the corner my classroom was in. My teacher eagerly greeting her students as they came in. (Yes I did say studentsssssss.) I had 9 people in my class! Finally a classroom that would not only feel but look normal. 
My teacher stood in the front with a huge smile welcoming everyone to school and to her classroom. Class started and just like the other two periods live class went the same as it normally would and I was very focused because I was actually there in the classroom. At the end of the live class period, everyone signed off from home and everyone in the classroom intently got to work. But our teacher kept telling stories about Green Level and COVID which helped make the whole environment less awkward. Throughout the non-live time she asked us questions. Because of the simple questions the classroom felt even the most normal so far. By the end of the third period I felt much better about coming to school because I actually got to see people. 
From the third floor all the way down to the first floor. From Earth and Environmental Science to Math. I found the room pretty easily because I just went down the stairs and straight. I entered and again not just a few but five or six people were there. Just like all day the live class went as normal with minor changes. We checked our homework, did an activity, and went into groups. By the time that was over we were into non-live time. We worked on the homework. Just like Science, the teacher created small conversations that made everyone talk and communicate with each other. They were trivial questions but made the class more comfortable. After reviewing the procedures for carpool, buses, walkers, after school sports, we were dismissed in that respective order. I had done it- the first day was over. 
On the whole, school went well. Everyone seemed to be safe and adhere to all the rules and precautions. It seemed to benefit everyone because the students got to go back and learn in a classroom and the teachers got to have a semi-normal class period this school year. I definitely enjoyed being in the building.
Week Two Reflections
Due to the circumstances, it will take a while for everyone that attends school in-person to adapt and establish a new "normal." That has been the mantra for Green Level High School this semester as students make their way back into the building.
In an interview held with Principal Summers, she was able to tell us the changes that they are potentially going to make after all three cohorts have attended in-person.
"Let's get through this rotation, let's get through next week, and then let's see where we are and see if we need to make some tweaks…tweaks include things such as, do we truly need to have up and down stairwells, or are we fine?… can students just come in the cafeteria and sit on a sticker, or do we have to load from front to back?…
In talking with Mrs.Summers, she shared the percentage of students who came into school from cohort B, which was 79%, and the percentage of students that came into school from cohort C, which was 87.5%. The overall attendance of students has increased, and the big question is, will more kids come into school from cohort A?
Our staff here at Green Level are working hard to make school as efficient as they can, while also ensuring everyone's safety and well-being.
"
"We over prepared… we really wanted to make sure that y'all felt safe"
— Mrs. Summers
Two week of in-person school at Green Level is definitely a change but seems to be a peak of a new "normal."