An Overtime Thriller: Green Level vs Apex Soccer
C. Hall, Staff Writer
September 21, 2021
On September 20th, the Green Level Men's Varsity Soccer team(5-1-2) took on their toughest test yet. The Apex Cougars went in to the match third in the State rankings for the east, and have had great success in previous seasons at the state level.  The Gators would need to put their best foot forward, and could not get caught sleeping.
The first 40 minutes were a tense one, with Apex coming out early with some good chances. A solid strike from outside the box from Apex tested  Goalie Nicolas Pucci early, as his diving save sent the shot wide. The Gator's main chance in the first half came from their number 10, Tyler Napier. Tyler broke free past the Apex backline and nearly got on the scoresheet for the Gators, pushing his shot just wide. On the play, there was contact between Goalie George Bingham of Apex and Tyler Napier, but play continued and there was no penalty . I was able to ask Tyler after the game his thoughts, and he was understandably frustrated about the encounter.  "He grabbed me." Tyler declared "Should have been a penalty." The first half finished 0-0,  and was filled with long balls into both teams box, but no team could get the upper hand.
The second half saw the Gators take a bit more possession in the opening minutes. Leadership from Braden Anghie helped the Gators stay composed against the press. After some huge saves by Nicholas Pucci, Caden Covington saw a chance on the right wing with around 15 minutes of regulation to play. He was able to make a solo run into the Cougars box. After a failed slide tackle by the Apex defender, Caden was able to get his shot off,  but unfortunately was saved by the keeper from close range. Chances were hard to come by, and as time ticked down, overtime was inevitable. Two ten-minute halfs to separate the teams, or a draw would be declared.
Substitutions were really key in this game, as both coaches switched out players often to keep fresh legs in a one hundred minute game. In Overtime both teams showed their fatigue, as very few opportunities arose. One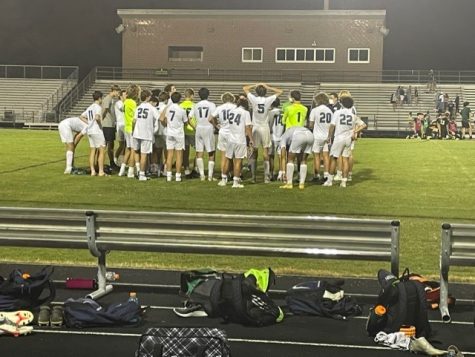 cross to the back post by the Cougars did no harm to the Gators defense. The clock would soon be the focus of home and away supporters alike, and after a few clearances from the gators, the buzzer would sound, Gators 0 – Cougars 0. A zero goal match with plenty of entertaining moments. Regardless of goals scored, this is a very positive result for the Gators, as an away draw against a team with state pedigree is nothing to drop your head about.
Their next game will be home against Holly Springs on Wednesday. Come out and support the team!