Men's Soccer Declaw Catamounts in Statement Victory
Green Level won by a score of 4-2.
C. Hall, Staff Writer
September 28, 2021
On paper, this game seemed just like any other conference match. This game meant a lot more for the Gators, specifically the seniors. This was a rivalry game, as nearly all of the seniors on the Gators lineup once wore the jersey of the Catamounts their Freshman year. I was able to catch up with captain Josh Murray and get his thoughts on this rivalry and what it meant to him. "It was one of our favorite wins of the season last night. We played against some former teammates and coaches so to get the win was big for the team." The Gators came in climbing up the state rankings, with a recent 3-1 win against Holly Springs. (Posted on the Hays and Hall Productions channel)
The Gators would field their normal starting eleven, and it would not be long until chances would be there for the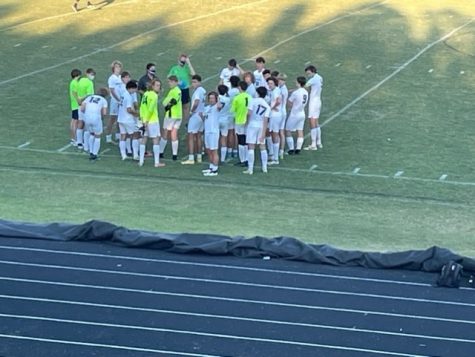 taking. Matt Stone would be the first with a shot flying just over the bar 9 minutes in. The Gators would be put on the backfoot early off a counter attack, with Goalie Nicolas Pucci saving a breakaway from PC with 27 minutes to play. The gators did not hold back however, as eventual Man of the Match Gabe Karakostantis would score with a low driven shot into the bottom corner! This great play got the Gators out of front halfway through the first half of action. The rest of the half would stall a bit, as both teams had some missed opportunities and solid defensive play.
The second half got off to a lightning fast start for the gators, as just about 2 minutes in, forward Tyler Napier got on the scoresheet off a beautifully placed corner kick by Matt Stone. Up 2 goals, the gators kept the pressure on, with Josh Murray tallying the third  goal  just minutes later off a Braden Anghie Assist.  That assist would not even be Anghie's best of the game, as a beautiful curving through ball over the Catamount defenders got Tyler Napier his second goal of the match to push the lead 4-0.
Panther Creek would not give up, as some late clever attacks got them two late goals in the final 6 minutes. The Goalscorers for the Catamounts were two seniors, Finn Brundage and  Sukhman Rathore. That is all they would get though, as the game would finish a comfortable 4-2 Gator win. This win pushes the gators to 7-1-2 for the season. The gators have a big home game tomorrow(Wednesday) against Green Hope, come out and show your support!