A Senior Night Sweep to Remember
On September 21st, the Gators went away from the Swamp to take on the undefeated Green Hope Falcons. Unfortunately, the gators would be defeated in a 5 set classic that day. The heavily anticipated rematch would take place on Thursday, and the gators were out for revenge.
But first, as this was the last home game for all of the seniors, a senior night ceremony took place.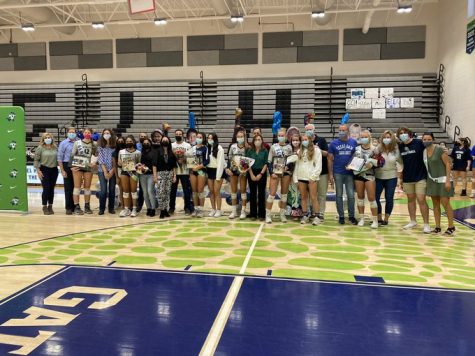 Accompanied by their parents, Gator Seniors Halle Gibson(6), Morgan Downs(7), Nicole Deoliveira(8), Khusi Shah(10), Lizzie Boggess(12), Ava Toppin(14)  and team manager Skyler Stein were all honored before the game, to huge cheers by the student section.  Congrats to these Green Level Ladies!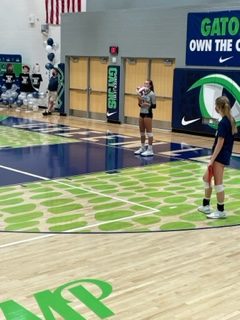 The Gator Goonies began to get hype, rallying around their team, as the Green Hope crowd was silenced. We asked Skyler Stein about the impact that they played on the game. Skyler said "I think it was a game changer, we had over 200 students there and I think it changed the dynamic… giving us an edge [on Green Hope] and momentum." The Gators players used this momentum to put away the game, dominating the second set by a score of 25-16. This set was never in doubt, as a quick 10-5 start allowed them to cruise to a 2-0 lead.
With the end in sights, the Gators kept the foot on the pedal, with some key points in the set won by Ellie Sampson (Jr).  A few timeouts from the Falcons Coach would not be enough to stop the bleeding, and Green Level would finish the final set in style. A Morgan Downs spike sparked the final whistle, and the sweep was complete! The gators defeated the defending state champions in style, by a score of 3-0!
This win puts Green Level and Green Hope equal in the conference standings. Should both teams win their games on Tuesday, a tiebreaker match on Wednesday would take place to determine seeding heading into the playoffs. Time and location to be determined.