Volleyball Wins 4A State Championship
This is Green Level's 1st State Title in any sport
November 8, 2021
The whole season led up to this one match.  The Green Level Volleyball team was one win away from the first ever State Championship – in any Green Level sport. The Gators battled through the gauntlet of the 4a East, taking down Millbrook, Cardinal Gibbons, and DH Conley consecutively. This game had a totally different aura around it, with more fans in attendance than in any other game. The Gators would take on the Ardrey Kell Knights, from Charlotte, NC.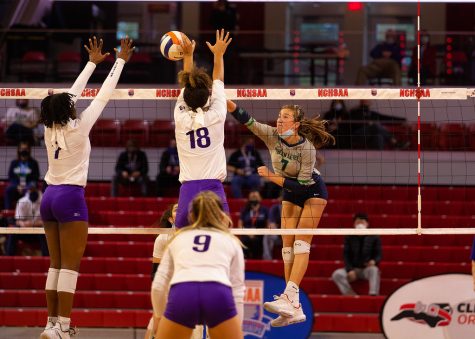 With the fan advantage totally in the hands of the Gators, the first set was a show of dominance for Green Level. Great outside hits from Morgan Downs saw the Gators get out to some quick early leads. We asked Morgan how she planned to attack the Ardrey Kell defense. "I try to hit it as hard as possible, and wherever it goes in play is good for us".  Hit it in play she did, racking up ten kills for the game.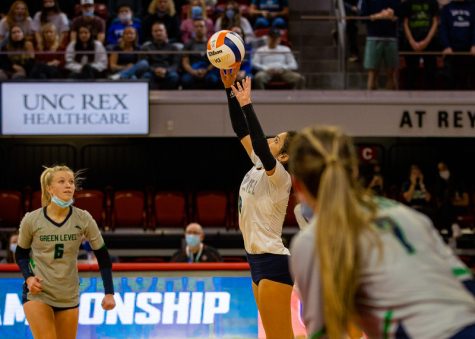 The second set would be the closest of the match, with the Knights getting off to a hot start. With an 8-4 lead for the Knights, the Gators called timeout, and composure from players like Nicole Deoliveira was needed. Nicole was a player with previous experience at States, having played in the 4a Championship her freshman year at Panther Creek  "Already playing really helped me be less nervous. I had played in a game like this before".
The third set was more of the same for the Gators, where they took home 11 straight points to take an 18-5 lead. All seniors were able to see game time, with Khushi Shah coming into the game in this final set. The Gators would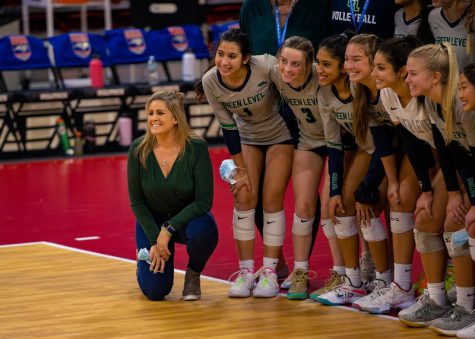 finish the set 25-15 with a Lizzie Boggess spike!  Alston Godbold proved to be the Coach this Gators team needed, and we wanted to know some of her season-long messages she drove home to the team. "We really stressed our first touch and set off the serve. We wanted to always be bettering the ball, and come out with high energy each match".
Having to battle through the challenge that is the 4a, Green Level Finished with a record of 27-1, and most importantly, a state championship! This title is the first state championship in school history, and the fastest a school has won a volleyball state championship by any NCHSAA school ever!
Congratulations to everyone on the team, what an incredible feat!