Volleyball State Championship Player Acknowledgment
Lizzie Boggess & Ellie Sampson Receive Recognition
On Saturday, November 6, our Green Level Volleyball Team competed in the 4A High School State Championship against Ardrey Kell. In short, we ended up sweeping the Knights with a 3-0 set win, securing the State Title.
Lizzie Boggess Recognized with Sportsmanship Award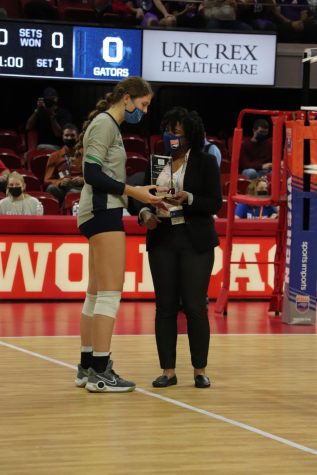 Prior to the game, NCHSAA officials announced two awards for which players from differing teams were selected to achieve. 
Our very own Lizzie Boggess was one to receive an award, achieving the all-around Sportsmanship Award. 
"Getting the sportsmanship award was very cool… I wasn't expecting it but it's really nice to have relationships with the team members…we have a special team bond," Boggess states in an interview.
Not long after receiving the award, Lizzie secured the game winning point for our Gators.
In regards to the game, Boggess says, "It was awesome, we played really well… our team chemistry was amazing and we had so much control over the whole entire game…as soon as we stepped onto the court we all knew that we could do it."
Ellie Sampson Recognized with MVP Award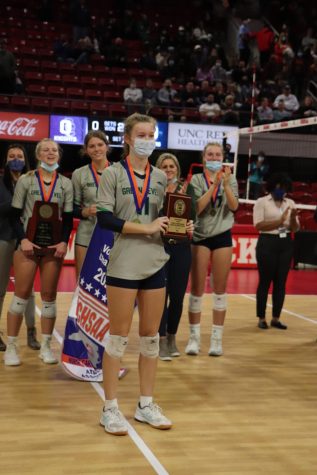 After the game, the media team of NCHSAA selected an "MVP" of the Championship match.
As Ellie Sampson was a prominent force on the attack for the entire game against the Knights, she was selected to receive this recognition.
"I'm honored… but I also feel like there were so many talented people on the court that day so it honestly was just up to my performance on that specific day… I feel like anybody on our team could've gotten it," Sampson states in an interview.
When asked how the game went overall, Sampson says that, "It went really well… it was a little disappointing that the West team wasn't as good as some of the teams we played in the Semi's or in the Quarter-finals but it still felt really good to be able to finish out the season that way."
Lizzie Boggess and Ellie Sampson have both been impactful players on the Volleyball Team as the program makes history here at Green Level.