Women's Basketball Falls to Holly Springs
C. Hall, Staff Writer
February 1, 2022
Last night, Green Level Women's Basketball took on a 10-6 Holly Springs team at the swamp.
The Golden Hawks have a unique style for defense in the conference, applying constant defensive pressure by way of a full court press. The gators would have to successfully break the press in order to create offensive chances.
The first quarter would see Green Level off to a good start, with four points coming off turnovers early in the game. Holly Springs guard Staci Williams led the charge, as she was the main facilitator of their offense. A three pointer from Maria Savvun pulled the gators ahead in the first quarter 12-8.
The second quarter was a more low-scoring one, with the tempo of the game slowing down.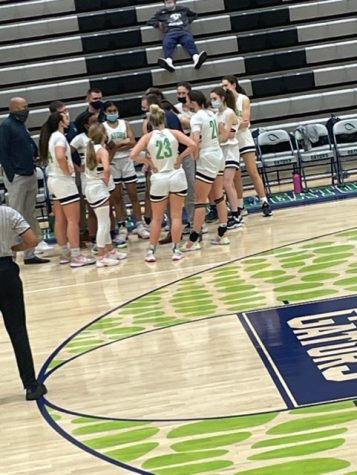 Both teams struggled to control the ball and remain effective on offense. The first half of play would end tied, at a score of 18-18.
The third quarter of the game would see a complete shift in momentum. Holly Springs got off to a hot start hitting three pointers to begin the quarter. Coach Woolf called a timeout to settle his team with three minutes to play in the third trailing 28-31.  The quarter would end with the Gators in need of a comeback, with a four point lead to the Golden Hawks.
The fourth quarter would be a back and forth one, with the Gators cutting the lead to just two points with a minute to play. Unfortunately the shots didn't fall, and clutch free throws by Holly Springs would see them take the game by a score of 41-47.
This game gives the team some motivation for a revenge game against Panther Creek, who they lost a close battle to earlier in the season. When asking Coach Woolf on what needs to change for the upcoming game his message was very simple. "More efficient offense. That's it."
"
More efficient offense. That's it
— Coach Woolf
There is a quad game at the swamp on Friday against Panther Creek! Show out and support all of our gator basketball teams!