Women's Soccer 2022 Season Preview
The Women's Soccer Season is on the Horizon
Our Women's Soccer Program has officially begun their 2022 season, becoming the 3rd season in school history.
The interest meeting was held on Jan. 19, followed by the first workout on Jan. 26. There were many new faces as well as several returning players. 
"We're freshmen so it was good to get to meet the people on the team and everyone was super nice so i'm really excited," says freshman, Avery Parker.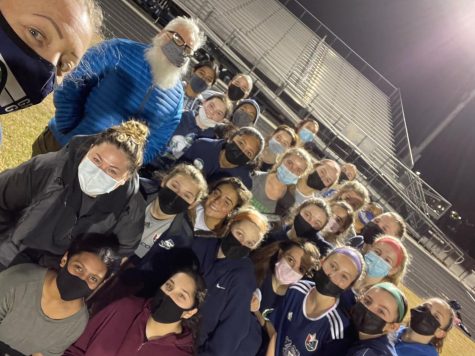 "The vibes were great. I love everybody, they're so nice, I did get megged 5 times but this team is just great…I love it!" says senior, Palmer Champ.
"I met a lot of new people, everyone is really nice, I'm starting to learn names, and I'm excited to meet the new coaches," says Sophomore returner, Addi Wilson.
Several voluntary sessions will be held continuing in the month of February as the players prepare for tryouts. The Gators will travel to Athens Drive for an unofficial scrimmage on Feb.23 and just days later will participate in the Heritage Husky Jamboree where they will compete in 3 non-conference mini games. 
The Women's Soccer gators will begin their official conference season at Home versus Willow Springs on Feb.28.
"I think we are going to do good this year… Coach Stacy is really psyched which I think makes everyone else really excited for the season," states Wilson.
If you are interested in attending a workout/voluntary session or tryouts, contact Head Coach Stacy Lamb & show up ready to play!
More information can be found on the GL WSOC social media pages :
TWITTER : @G_L_WSOCCER
BAND : GL WSOCCER
INSTAGRAM : @g_l_wsoccer