Committed: Laveyah Hill to UNCC
Laveyah Hill has committed to compete on the Track & Field Team at UNC Charlotte
Laveyah Hill has verbally committed to continue her athletic and academic career at the University of North Carolina at Charlotte.
Roughly two hours west, UNCC stands as the second largest university in North Carolina.
Regarding her recruitment process, she says, "It was a struggle at first because I am a first generational college student so I didn't know how the process worked. I watched many YouTube videos lol. At first only D3 schools were reaching out and I was talking to them because I was grateful that I got something. Overtime I started sending out many emails to coaches (even schools that my times did not reach their standards yet because you never know what could happen). Eventually I started talking to many D1 schools and everything fell into place."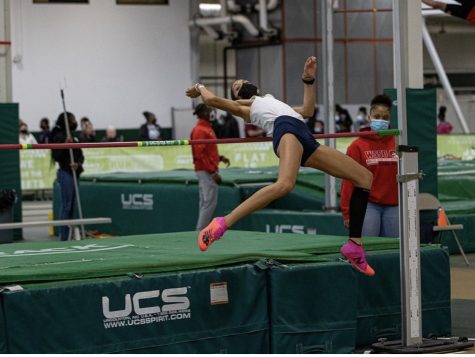 Now that she is verbally committed and finished with the recruitment process, she explains, "It feels so good to have this out the way. It was alot of stress on me and look up alot of my mental space. I was constantly researching schools, filling out  recruiting questionnaires, and sending emails. That all takes up so much time and if things didn't go as planned, I would lose motivation. Now that I am committed to somewhere that feels like home, it feels like a huge weight lifted off my soldiers. I am excited."
Hill informs us that her top 3 schools were UNCW, Mount St. Mary (Maryland), and UNCC. When asked why she chose UNCC, she says, "When I walked onto campus at UNCC, it felt like home. After the visit, I talked to my mom, and she said that she felt the energy as well and knew that's where I should be. There was a lot of diversity at the school, which is something the other schools were missing. I am studying kinesiology and there are many opportunities in the area for internships such as the hornets or the panthers. They also have a football team for more internships which is something the other 2 schools were missing. The campus was absolutely beautiful as well."
Hill informs us that she will mainly be a 200 and 400 meter runner, while also competing in high jump and in relays such as the 4×1, 4×2, and 4×4.
Hill explains how competing on a GL athletics team has impacted her career, "Omg it's been great. Coach Firman has been amazing. He has pushed me at every meet by making me run 4 events each meet. I don't mind running 4 events each meet but it definitely pushes you to keep going even when you want to stop and just lay down lol. We have great training at practice that is very different from other schools in the region. I think without him, our team and myself wouldn't be as successful as we are."
As she prepares to compete at the collegiate level in the upcoming year, she states, "Many athletes don't do summer sports their senior year but I am planning on doing so. I am extremely blessed to be running at the next level because a lot of athletes don't get that opportunity. I can't become lazy over summer, so I am running summer track with a travel team to stay in shape and keep competing so I don't lose my training and abilities that I have worked hard to gain. You get what you put in and If I want to be a competitive player at the next level I have to keep training."
We wish Laveyah the best of luck as she travels to Charlotte next fall to further her academic and athletic career at UNCC!