Ukrainian Exchange Student Pavlo Panchuk Prays for his Family Back Home
February 25, 2022
"Glory to Ukraine! Glory to heroes!" exclaims Ukrainian Exchange Student Pavlo Panchuk on the evening of February 24th, 2022.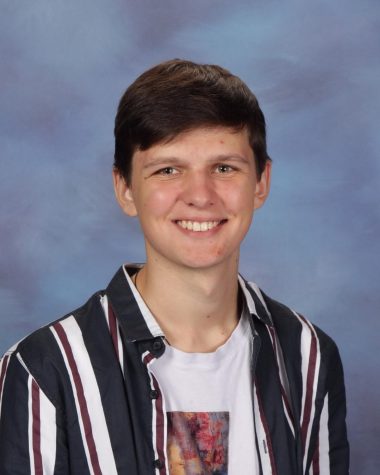 Pavlo Panchuk, a Ukrainian exchange student, is enjoying the privilege of studying in America at Green Level High School for the 2021-2022 school year. However, things back at his home are looking catastrophic for him as the Russians brush off their mask of diplomacy and uncover their true identity. 
Pavlo is from a small town in the North-West of Ukraine called Zdolbuniv. His family and friends are scattered all over the country, as his dad and almost all of his friends were drafted into the Ukrainian military in 2014. Pavlo's cousin serves in the Ukraine Security Service and fought in Donbas while his daughter and wife waited for him. His cousin and uncle joined a territory defense group designed to protect neighbors. Pavlo expresses his worry for the rest of his friends and family, "They all are very scared, now they hide in the bunkers, basements or ran to villages or West of Ukraine." 
He refers to his town as lucky, as nearby regions were attacked, but Zdolbuniv avoided the first day of hostilities. Pavlo explains that his town is one he believes would be of value to the Russian invaders, "Near town, we have a huge airbase and strategically important railway station, which was very attractive for Germans during World War II."
While his family faces dangers in Ukraine, Pavlo is in the United States, living with a host family he calls his "American family." He says the most important thing they do for him is provide "love, support, and understanding." Pavlo has an American visa, allowing him to live in the country up until his schooling in the US comes to an end, meaning he will have to go back home to Ukraine when his visa expires. He mentions, "Placement organizations send us dates when we must leave; these dates are the dates when our visa inspires. My date is May 11. What they are going to do, I don't know. They won't put us in danger, that's for sure."
"
My date is May 11. What they are going to do, I don't know.
Yesterday, February 24th, Pavlo stayed home from school, given the situation back home in Ukraine. He was awake the whole night, tracking the news and talking to his family, saying he only got two hours of sleep as he tried his best to make sure that his family and friends were safe. "It was a hard day, last time I felt these feelings was in April 2014, when Russia attacked Donbas. But back then I was too young to realize what is actually going on. And today the nightmare becomes true."
Pavlo says that the people of Ukraine are "strong and powerful," "prepared and organized." They have solid and valuable precautions to take in each possible situation. He says that the safety drills are helpful; the main point behind them was to locate the closest shelter, bunker, basement, etc. "Today, they bought all of the products that are needed for the first three days of the war. Police and territory defense groups check on society and help everyone prepare for the war…Ukraine protects its cities, airports, and borders." He says that all of Ukraine is prepared and strong in this time of crisis and that because of the events in 2014, everyone is, unfortunately, well-acquainted when dealing with war. 
Pavlo mentions the most significant worry of his people, "the biggest concern of Ukrainians is losing independence- to lose the right to be Ukrainian- our own culture, language, and traditions. We are scared for our lives, relatives, future, for Ukraine. We are scared to lose our homes. I am scared to lose connection with my family, lose my family, and hear the news that my town has been bombed. When I was leaving, I didn't think that it was the last time that I saw my parents, and I am sure that it will not be my last time. We are not scared of Putin or Russians; through our history they have been bugging us. We were scared to lose our families."
The state of war worries Pavlo, but when it comes to his confidence in his country and his people's dislike for Russia, he strongly believes that the Ukrainian army will prevail against the invaders. He explains, "Personally, I didn't like my President because of his background and the decisions that he made in a peaceful time. But now he is the leader of the country, he reports how things are going every hour, and he has conversations with leaders of NATO countries. He is a strong man who can win the war. Ukrainians are prepared and ensured that the Ukrainian army will win." After referring to Putin as a "weak old man," Pavlo further demonstrates his undying confidence in his people and his country, "Believe me, there is nothing angrier or more powerful than Ukrainians who have a fight with a Russian…we have support, hope, and God on our side."
Pavlo says that the sanctions are influencing the Russian economy, and the scenario of Russia morphing back into the USSR is becoming more and more real.