Success at Prestonwood: Green Level Golf Finishes 2nd Place
C. Hall, Staff Writer
March 15, 2022
Yesterday, Green Level Golf had their best performance of the season so far. This match took place at Prestonwood Country Club, the home course of back-to-back match winners Green Hope. The team came off a 3rd place performance, improving one spot in each match so far this season. This match would be no different, as the team amassed an impressive combined score of  147, a team score of 3 over. Green Hope finished with a score of 143, a team score of 1 under par! This deficit of only 4 strokes is reachable for the Gators in upcoming matches.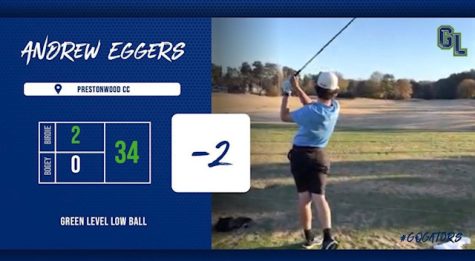 The Gators were led this week by junior Andrew Eggers. Andrew shot an impressive two under, 34 that propelled the team. Andrew credited his success to ¨knowing the course, and committing to every shot¨. Having followed Andrew, he played at a high level, being aggressive when it was needed, and conservative when tough shots came up. Congrats on the low ball Andrew! Seniors Caden Covington (35) and Benjamin Hays (38) were solid as well. For Caden, it was the pregame meal that helped him shoot under par. "I think it was the Wendy's 4 for 4. It got me ready. Had to have the frosty as well" In regards to the course Caden "hit nukes and made putts." Great round Caden!  "Sophomore Peter Pucci (40) was the final score counted for the gators 147 total.
Green Level plays at Macgregor Downs Country Club on Tuesday, March 22nd. Good luck guys!