Be Bold In the Green Level Talent Show
D. Khan, Student Life Editor
March 16, 2022
Do you love to dance? Has your singing made a room hold its breath? Are your jokes always followed with laughter? No matter what activity you choose, the Green Level Talent Show would love to showcase your talents. Not only do you get to show off your unique abilities, but you also get a chance to win from them!
The first-ever GLHS Talent Show will be on April 24th, but, of course, there's no show without performers. Auditions will be held on April 8th, starting at 2:30. You can also submit your audition virtually through email, but Mr. Olson and Mrs. Craig would prefer to watch you live. Anyone is welcome to audition, regardless of their talent of choice. Whether you sing or juggle, perform magic tricks or crack jokes, or go out of the box, your performance has the potential to be a hit. "We'd love to have some variety in the show, so come on out and join us," encourages Mr. Olson. Any student interested in auditioning can sign up outside his room in the fine arts hallway!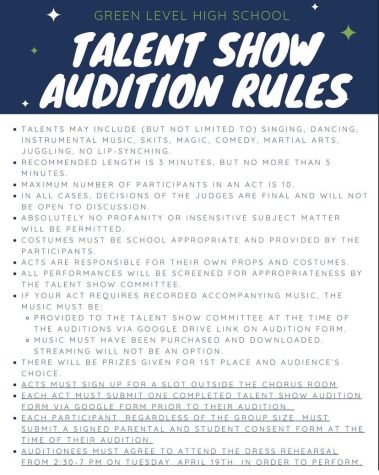 No talent show is complete without prizes. For our show, we'll have two awards. The judging panel will choose the Judge's Choice and award them a celebratory trophy. The Audience Choice is a little different–instead of the panel, the audience members will have the opportunity to donate through jars labeled with the names of their favorite performers. The fan-favorite will celebrate their victory.
If you're anxious about auditioning, don't panic. "Be bold, be brave, and just do it! I feel like lots of kids are inhibited… this is your chance to step out!" Mrs. Craig says, cheerfully encouraging all students to get involved. "I'm not looking for the most technical precision of all time," adds Mr. Olson, "I'm just looking for an act that looks enjoyable and looks like the person's enjoying what they're doing." If you're having fun and being yourself, then you'll do great.