Gators vs. Falcons: A Head to Head Comparison in Varsity Sports
Green Level High school first opened its doors 3 years ago, hosting only freshman and sophomores, this year is the first year in school history that all four grades are filled. Knowing this, our athletics program has come a long way from when the school first opened, with this season being one of the most impressive yet, and hopefully with many more to come. The athletic teams at Green Level have done a great job in bringing this school from its beginning stages to where we are today.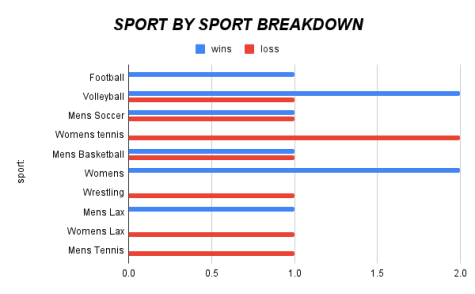 So, with all of this in mind we wanted to ask, how does Green Level compare to its neighboring school Green Hope? Green Hope was first opened to the public in 1999, this season marks the 23rd year since the school's opening. Now that Green Level has filled all four of its grades, it would be a fair comparison between the two schools. Who has won more games out of all head to head sports, so far this year? 
Let's start off with where the schools are tied, the Gators and Falcons each won one match in Men's Soccer, and Mens Basketball. However, unfortunately this year the Falcons were able to beat us out in both mens and womens tennis, the men's team lost one match, and the womens lost two this season. The falcons also managed to beat us once in women's lacrosse, as well as wrestling.
Here is where things get good though, the football team went 1-0 against green hope, 2-0 in women's basketball, 2-1 in volleyball, and 1-0 in men's lacrosse. Despite losing one match to green hope, the volleyball team made up for it with their outstanding season, and state championship win. Also notable, the women's basketball team won both games against green hope and finished in the elite eight of playoffs. 
So far the Gators and Falcons are tied 8-8 in head to head sports this school year. Tonight Green Level women's soccer will take on the Falcons in an away match, an exciting match up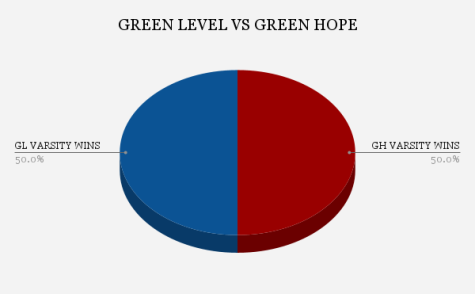 to see who can break the tie between the two. Overall both schools had a great year in sports so far, and the gators are proud of their accomplishments this year.